"Get in! Get in! Get in!" yells the usually mild-mannered, Coltrane-consuming taxicab driver Richard Honigman to potential customers on the 400 block of State Street. It's just past the 1:30 a.m. last call on Monday, the weeknight when foreign students head to both Sharkeez and Q's to let loose. After scanning the street for cops, Honigman, like the numerous other cabbies on the street, is breaking the law by pulling over in a red zone because there's nowhere legal to pick up passengers on the 400 block. The illegal pull-over is a move that cabbies make every night-some say it accounts for 75 percent of their business-and only disperses when the cops show up and shine their lights. Then, in what Honigman calls the "cockroach act," the cabs scatter.
This time, there are no cops, and Honigman's maneuver nets a Thai guy and two Swiss-German girls, all in town to study English for the summer. They get in, list off their addresses (one in San Roque, one off Turnpike, and the third way out in Rancho Embarcadero), and soon enough we're pulling over again, and then again, because one of the girls feels like puking. Eventually, we make it to the girl's neighborhood, but she can't remember where the house is, so we meander the dark rural streets at the edge of Goleta until her memory kicks back in. She shells out the $48 plus tip, and we make sure she stumbles inside.
Photo Gallery
Taxi!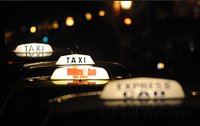 This routine-keeping drunken drivers off the streets, assuring vulnerable people find their way home-is pretty typical for Santa Barbara's taxicab drivers, the 300 or so men and women who make their livings by shuttling thousands of us to and fro, continuing a legacy that's enabled the South Coast to thrive as a good-time tourist mecca since the early 1900s. But despite their hard work to keep the city safe at night and moving during the day, Honigman and other drivers are complaining that they're being treated as second-class citizens by City Hall, which has approved unprecedented numbers of taxi companies and cabs in recent years yet done little to accommodate the growth.
"We play cops and robbers every night in a Kafkaesque ballet of wits with the city that has chosen to flood our streets with hundreds of new cabs and dozens of new companies without provisions as to how they can all fit and serve the community," Honigman explained in an email earlier this year. "What city have you ever lived in or visited where taxis can't pick up and deliver customers to the restaurants, bars, and nightclubs that patrons want to attend?"
So the 63-year-old from the East Bronx, who was a globe-trotting antiwar radical before becoming a Hollywood art director, is rolling up his sleeves to fight back. For the past year, Honigman has been trying to rally more support for cabbies, both in meetings with city officials and on the community access TV show he cohosts, That Ain't Right. But Honigman, who's been driving a hybrid Prius for Lucky Cab since 2006 after a few years with Blue Dolphin, has little to show for his efforts, other than an increasingly angry and annoyed clan of colleagues. And though he loves his job, Honigman's starting to wonder, like many of the best and most experienced cabbies in town, whether it's time to throw in the keys.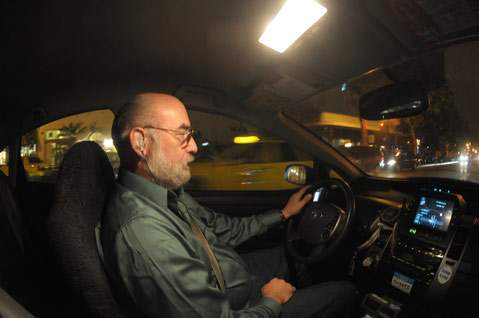 By Paul Wellman