For California's abalone divers, it was the best of times, fueled by a resource with seemingly no end. A community of pals and partners, the divers had the sea to themselves and all the abs they could grab. The daily limit in the 1970s was 20 dozen black abalones per permit, per landing-a bit less for the reds, pinks, greens, and whites-and a seafloor virtually paved with the big sea snails provided some 300 commercial divers in Southern and Central California with a fast-paced livelihood of sun, salt, wind, and wealth. Fifty-six-year-old Jim Marshall, an urchin diver from Carpinteria, still recalls the old days of this illustrious industry with a shred of nostalgia for something that may never return to its former state of abundance, for California's abalones have suffered a fishery collapse as dramatic as they come. While some snails still crawl over the seafloor at San Miguel Island, gone are the divers.
Gone, too, is the culinary culture of abalone once so integral to much of coastal California, and though the last hot aromas of fried, breaded, hand-caught abalone long ago vanished from the air, it lingers clear as day in the memories of those who were there. Scott Westlotorn grew up in Lompoc and remembers the communal abalone barbecues after a morning's ab-grabbing at Hollister Ranch, where one could go at low tide and kick them from the rocks at a limit of 10 per day.
"We'd set up an assembly line of people," Westlotorn, 58, reminisced, "and one would shuck them, another would slice them, the next person pound them, and finally we'd fry them. We ate so much abalone. We could eat all we wanted. People loved it, both as a food and as a social occasion, and no one thought it would ever end."
For commercial divers, the money was just half the point. Divers could make $150-$200 per day-not too shabby by today's standards but a virtual fortune 30 years ago. After several years of deckhand work while a high schooler, Carpinteria's Marshall plunged into this lucrative trade at the age of 19. In one particularly profitable month at the start of his career in the early '70s, the young diver earned more than $1,800.
But it was the liberal lifestyle that made abalone diving a worthy pursuit, and for divers in the 1950s, '60s, and early '70s, the future was wide open. Laws and regulations were still few and a life on the ocean was a life of one's own, with divers essentially determining their own seemingly boundless salaries. The per-landing limit allowed the option of making two or more landings per day, time permitting, and the Department of Fish and Game (DFG) enforced no annual limit.
Best of all, there was no hurry. Marshall and his deckhand sometimes stayed at the islands overnight while stockpiling hundreds of abalones on the deck, in the shade and under wet burlap, or kept fresh in live-wells. Marshall and others dived with hookah gear, and a diesel-powered engine pumped air through a hose down to the divers, who pried the abalones off the rocks with two-foot bars.
Back at the dock in Santa Barbara, the snails were unloaded and Marshall, who owned his own vessel most of his career, would make another run to the islands the next day or maybe the next week-he had no boss, the world was his oyster, and a pearl of a world it was, with the underwater realm fated to remain his office and playground for decades.
But as surely as hungry buyers met the boats in the harbor, the abalone beds began to thin out. Looking past a potential problem was easy at first, admits Marshall, who explained, "We'd just say, 'Well, I guess they all moved to another spot.'"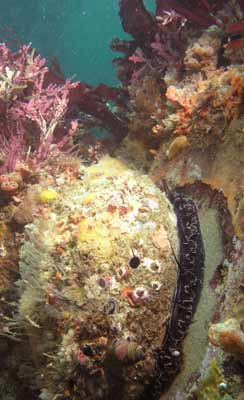 Jessie Altstatt