Citizen McCaw debuted to a full house at the Arlington Theater on Friday night, if you don't count the empty seats that ticket-buyers failed to sit in. The documentary by filmmakers Sam Tyler, Rod Lathim, Brent Sumner, and Peter Seaman about the Santa Barbara News-Press meltdown had the audience of more than 2,000 howling with laughter, hissing in anger and shaking their heads in disbelief.
Photo Gallery
Citizen McCaw Premiere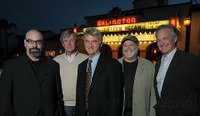 Santa Barbara Independent publisher Randy Campbell swears he spotted the film's evasive subject, News-Press owner Wendy McCaw herself, with co-publisher and boyfriend Arthur Van Weisenberger at her side, cruising by the theater in a Porsche just as the lines started forming in front. Still, only a few theater-goers sought refuge inside the paper bags with duct-tape mouths which were provided by management, for those who wished to remain anonymous for fear of being fired or sued. What follows is a slide-show by Independent staff photographer Paul Wellman, who captured some memorable moments from that magical evening.