There's something so alluring about fire: It's hypnotic and erotic, dangerous and transformative. And playing with it is all of those things, too, as anyone in Santa Barbara's fire-spinning collective PyroSpin will tell you.
They're an eclectic band of artist-by-day types, which is not to say the group doesn't include a suit or two; most of this all-ages group started playing with fire after watching others, going home thinking, "I have to learn how to do that," and subsequently teaching themselves. "Copperhead" saw fire spinning for the first time in 1999 at Burning Man; when she returned to S.B., she and some flame-friendly friends would gather their poi, the traditional Maori dance props from New Zealand, some wet towels, fire extinguishers, and flashlights and descend upon the beach at night, scuttling around in the dark until they found a place appropriate for lighting up.
"The first time you light up, the sound is the most amazing thing to hear, the flames coming past your head, and being at the center of that, it's :" Copperhead trailed off, words replaced with a smile.
After seeing some spinning at a party around five years ago, "Paul" was likewise affected. "I went home and immediately made myself some staffs" he recalled. "Spinning for the first time-it's a defining moment, and I relive that every time I light up. The heat, the noise, the exhilaration, the light : it was really described to me best by a child: It's warm, there's light, and it's moving. There's movement." For Paul, who underwent two knee-replacement surgeries 10 years ago, working the heftier "tools" has reaped all kinds of benefits. "I have a lot more vitality," he said. "This has a tendency of keeping me fit and feeding my soul in different ways, and I will continue to pursue it until my body breaks apart."
Pyro Spin
When: Saturday, March 15, 2008, 8:30 p.m. to 11 p.m.
Where: Reds Tapas

&

Wine Bar, 211 Helena St., Santa Barbara,

CA

Cost: $12.50 - $15
Age limit: 18+
Similarly enthralled, Paul and Copperhead's practices grew, evolved, and took on lives of their own, as a well-fed flame is known to do. They found other burners, experimented with new tools, and became interested in performance; in fact, that's how the two met.
"Paul was a neophyte, and I was barking orders," Copperhead laughed. "I was putting together performers for Burning Man, and put out a general call for fire dancers to come meet me." They continued spinning together after burning the man, and, two years ago, PyroSpin was born: a performance collective that includes four members and whose shows include such awesome spectacles as fire-hooping, fire-eating, fire-breathing, and couples dance. In addition to festivals, PyroSpin has performed everywhere, from private parties to family reunions.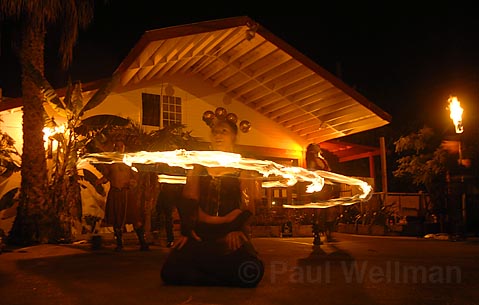 By Paul Wellman