Being used to traveling destination style, where the trip along the way is secondary to the travel itself, beginning a trip across America with no fixed points along the way and eleven days ahead of me before meeting my significant other in Washington DC, was a bit daunting. After all, there were a lot of choices.
It has been 45 years since I've been further east than Denver. It's not just that I hate going east but I just love the American west. So many places, so many seasons, so why spread yourself thin when there is so much to see here? But I've always wanted to see America. Not in a Chevrolet and not with Dina Shore, that's for sure, but ever since reading Travels with Charley by John Steinbeck the urge has been there. Not just to travel either, to check off from a list of "go to" places, but to weave a route across America that forces me to see the country, get to know some of the people and most of all, to reflect not only on my own past but our country's.
It's Thursday morning, early, and I'm worried I'm forgetting something. No matter, it's time to get on the road. I'm more or less heading to St. George today. Perhaps I'll make it that far, perhaps not. What's most important is to make the break, stop worrying about what I'm leaving behind and what is ahead. I've got property in Utah so the road's familiar. What's not is the journey.
I'm three hours into the drive and it finally feels like I'm leaving things behind. Somehow, getting beyond Barstow seems like a turning point. The desert beckons though Highway 15 isn't quite the route I'd choose to experience it. Near Baker I head off onto a lesser highway that leads into the heart of the Mojave National Preserve. The towns are small - Kelso, Cima, Searchlight - railroad towns that date to a time well before the interstate highway system were in place and goods were transported by rail. Off my right shoulder the Providence Mountains beckon, their silhouettes rising high on the skyline. I cruise at a steady 60 mph. Just past noon I reach Highway 95, jog to the east through Boulder City then head north on Highway 168 where I'll pick up Interstate 15 once again near Mesquite.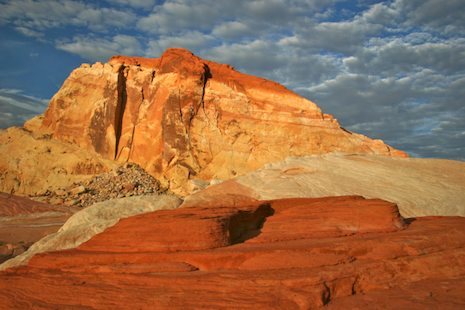 By Ray Ford