I'm up early today. The drive will not be a long one but there is plenty to see along the road that stretch from Zion National Park to Green River, Utah. The core of the route is along Highways 12 and 24. On the map they seem somewhat insignificant - just a bit more than a hundred miles total distance but this may be the finest drive you'll ever take west of the Rocky Mountains.
The East Rim Drive leading up out of Zion to Mt. Carmel Junction is a favorite of mine. The road switches back and forth up out of the main canyon bringing finer and finer views at every turn. Just as its appears the road wiIl dead end at a huge headwall it enters a two mile long tunnel that is almost claustrophobic in its narrowness. Thankfully the drive is interspersed with windows that allow a quick peak out - then suddenly, I'm out in the bright light and the steep walls on either side bring the canyon right up to the edge of the car. From this point the road winds for ten miles up the Pine Creek drainage, a fairyland of high country geology, towering walls, deep side canyons and plenty of places to stop and explore. There are no trails, just bedrock. Be wary though: it's easy to climb up the rock and much more difficult to descend back down.
At Mt. Carmel Junction I turn north on Highway 89,a 40 mile stretch of road that meanders along a series of long, narrows valleys to the start of Highway 12. Two miles into the drive I pass through Red Canyon, then twenty minutes later I'm at the turnoff to Bryce Canyon. There is a cold, biting wind that scours the sparse scrub brush, peppering it with sand but nevertheless I am determined to take a hike into the canyon.
The landscape is filled with a geologic past that cannot be ignored. The bedrock layers that comprise Bryce and the larger the Colorado Plateau have colorful names - Moenkopi, Chinle, Morrison, Wingate, Kayenta, Navaho - and together they comprise thousands of feet of sedimentary rock formed in a succession of ocean, near-shore, river and sand dune environments. As each layer was laid down, its weight hardened the layers beneath, compressing and solidifying them, readying them for another part of the geologic story when the opposites of uplifting and erosive forces would take place, sculpting what I am driving through today.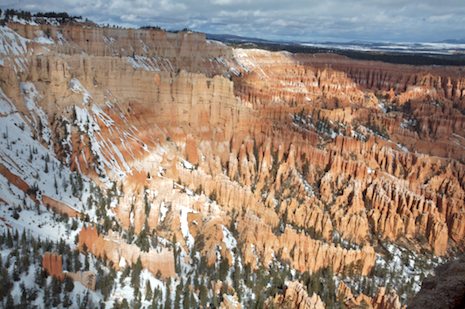 By Ray Ford