Ancient nomads created the larger-than-life image perhaps as long as 7,000 years ago in the deep recesses of the Utah canyons, perhaps as a response to a dying way of life. They form a body of rock art unsurpassed in the Southwest.
Today I'm working my way east on Interstate 70 towards Moab. The sun is out but there is a misty gray sky on the horizon. It's cool. The Weather Channel reports are not promising. I've got a storm behind me and it's gaining. But for now it's holding up well enough for an hour or two of exploring here and there. Just east of the turn off to Moab is the small town of Thompson Springs, another of the small railroad stopping spots that have gone to seed. The town is small and definitely on the decline. None of the few stores are open and cars and other equipment sit rusting in open fields.
But I've not come to explore the town. The road that leads through it heads north up into the mountains, and not too far up are a series of sandstone cliffs that hold panels of what is known as Barrier Canyon Style rock art. It's an easy place to find. There's a turnout right by the side of the road and the pictographs stand out in stark contrast to the surrounding brush.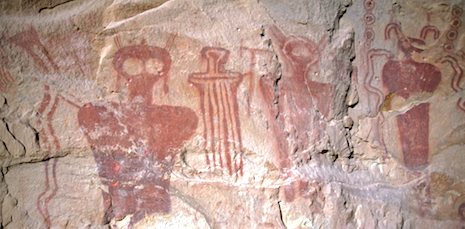 By Ray Ford