Heading east out of Denver, the sun was shining overhead but ahead of me, out on the Plains I could see the clouds building. Snow was ahead of me. It was time to turn south and drop below the worst of it.
East of Denver the landscape changes dramatically, shifting from mountainscapes to a sort of barren tundra-like environment. This marks the beginning of prairies and a thousand miles of wide open spaces marked by a relatively flat landscape perfect for growing corn, wheat and other staple crops further to the east.
There are few trees and what looks like a scruffy grass, perhaps edible by buffalo in centuries past but a tough place to make a living for farmers or ranchers I would guess. The wind howls and though I've still got fifteen-to-twenty miles of visibility, as I eat up the miles on Highway 70, the sky is dropping down on me rapidly, a fog like cloud cover.
I'd originally planned on heading north up into the Black Hills of South Dakota but the snow storms that have been creeping up on me the past several days have scotched those plans and now the weather ahead is causing me to shift my plans again. Stopping at a rest area I re-check the maps. Not too far east of my position at the small town of Limon, State Highway 287 cuts down and across the lower part of Colorado. This route will take me across the lower part of Kansas and the Weather Channel promises me that this is well below the snow line.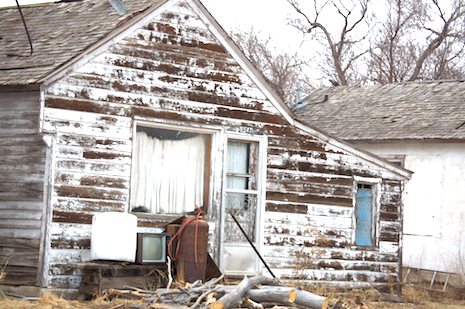 By Ray Ford