One Tuesday last September, the Santa Barbara County Board of Supervisors was paralyzed when trying to make one of the year's most important decisions, an update of policies regarding the county's prosperous and sprawling agricultural lands. With 3rd District Supervisor-and ag landowner-Brooks Firestone recusing himself to avoid a conflict of interest, the four remaining supervisors found themselves gridlocked on the revised "Uniform Rules." The two North County supervisors weren't budging on several key components, nor were 2nd District Supervisor Janet Wolf or 1st District Supervisor Salud Carbajal.
Several tie votes resounded one after the other, and finally, after seeing tension among colleagues rise as the stalemate went nowhere, Carbajal called for a break. After caucusing with Wolf, the two decided progress had to be made. Unless they compromised, the rules wouldn't be updated, because a tie vote is a no vote. The two headed back to the meeting, went forward with their compromise, and the updated Uniform Rules became reality.
While credit is due to Wolf for her role, it was a prime case of Carbajal making things come together. "He knows the art of compromise," Wolf said later. "He has an ability to bring people together."
By most any account of those who follow county politics, Salud Carbajal is a force to be reckoned with. He's got deep pockets and the personality to fill them. Everyone likes him, it seems, and he is a friend to all.
The September 25 meeting was just one example of Carbajal's willingness to cooperate for the sake of progress, and just one example of why people, almost in droves, are jumping onto the Carbajal bandwagon. Although only in his third year as supervisor, Carbajal-whose district includes Carpinteria, Summerland, and Montecito as well as Santa Barbara's Mission Canyon, Riviera, Eastside, Westside, and downtown neighborhoods-is making a name for himself as a leader, a listener, and a political stalwart in Santa Barbara County. By most any account of those who follow county politics, Salud Carbajal is a force to be reckoned with. He's got deep pockets and the personality to fill them. Everyone likes him, it seems, and he is a friend to all.
But is he? Can he really be everything to everyone? And will this likeability one day push him up the political food chain to a higher office?
The Rise of Salud
To really know Carbajal, it's important to step back and look at where he came from. Born in Mexico, Carbajal moved with his family when he was five years old to Bagdad, a small copper mining town in western Arizona. His father worked the mines while his mother, who suffered from arthritis, stayed home with their eight children. When Carbajal was in sixth grade, the copper mine closed and the family moved to Oxnard, where Carbajal spent his junior high and high school years while his father worked in the fields.
In Oxnard, the Carbajals lived in the projects of an economically depressed neighborhood. It wasn't uncommon for the teen to hear about a stabbing nearby or a heroin overdose around the corner. A neighbor and close friend of his just recently got out of prison.
"The police were there constantly," Carbajal said over lunch last week at El Zarape, a Westside Mexican eatery not far down San Andres Street from his West Islay Street home. "It was a tough neighborhood."
His parents, despite their tight financial situation, always believed in giving. When immigrant relatives or friends came to town, the Carbajals would help in some way or another, whether by loaning money or giving them a place to sleep and eat for a few days. "Seeing that help was inspiring and reaffirmed what it is to be a good human being," said Carbajal.
In school, Carbajal adapted quickly and made friends with all sorts, from the jocks and thugs to the studious and rich. His wealthy friends who lived in nice houses and wore nice clothes would sometimes visit in their nice cars. It was a glimpse into a world Carbajal thought he could attain but didn't yet have.
"It was an inspiration, not so much for material things, but a challenge and a test for myself," he said. The first step was getting a proper education. "I always thought a college degree was either for the rich or for the smart," Carbajal explained. "And I didn't consider myself either."
"He's always been very motivated, and always strived for different things. He's very driven in terms of the goals he sets for himself." -Frank Barajas
But that motivation not only paid off-Carbajal was accepted to every university he applied-it made others notice as well. Frank Barajas, now a professor of history at CSU Channel Islands and the godfather of Carbajal's daughter, met Carbajal in the eighth grade playing football at the Oxnard Boys Club. The two reconnected at Oxnard High and became close friends. While some of his peers dropped out of high school almost as soon as they had begun-and even more were taking just the basic classes needed to graduate, with no sense of what it took to get to university-Barajas said Carbajal was very focused, even for someone from a family with no university experience. His determination in taking college prep classes spurred Barajas and many other classmates to pursue degrees.
"He's always been very motivated, and always strived for different things," Barajas said. "He's very driven in terms of the goals he sets for himself."
Carbajal headed to UCSB, where, as a Latin American and Iberian Studies major, he began to develop his social and political outlook on life. "UCSB opened up my eyes to the world," he said. "I was oblivious to understanding the world as it is."
While at UCSB, he met and married his wife, Gina, and the two had their first child. It's also where he initially got into public service. He joined the U.S. Marine Corps Reserve-which included two years of active duty during the Gulf War, though he was never sent overseas-and worked as an assistant to a quadriplegic man. He also was a family service advocate and group home counselor at Devereux and worked for the county's Public Health Department for the drug and alcohol division's master plan. If you're noticing a trend, there's a good reason: Every job of Salud Carbajal's has been in public service.
Carbajal's political rise started when he met Naomi Schwartz-the supervisor who held the 1st District seat for the 12 years prior to his term-about a year before she took office. He had come to talk to her about issues concerning Santa Barbara's low-income, Latino community. "I was really impressed with him and with his thinking," Schwartz said. "I tucked him away in the back of my mind." That is, until she was elected.
After winning office, Schwartz asked Carbajal if he knew any Latinos who'd be interested in working for her, someone who could connect with the 1st District's large Latino constituency. He called back with an answer: "I would be interested." Returning from an out-of-town meeting, Schwartz called Carbajal to say that the only time she could meet would be immediately and at the airport. "He said, 'Sure, I'll be there,'" she recalled. "He was always one to step up." His hard work, quick learning, and ability to take on any task are what most impressed Schwartz when he first began working for her 15 years ago. And, said Schwartz, those traits are a large part of his success today.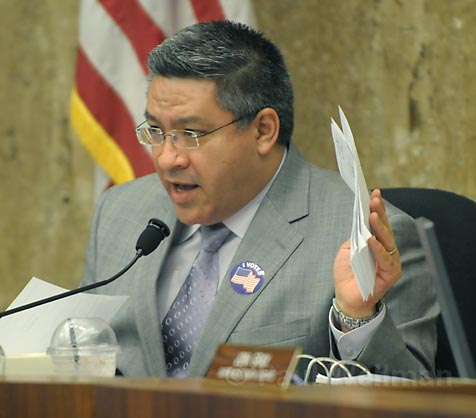 By Paul Wellman