I'm well beyond Dodge City now, continuing east on an almost straight line. Kansas is a far wider state than it appears on the map and I'm sort of zoning out on the continuity of a pattern that repeats itself over and over - a succession of small towns and wide expanses of farm land - beautiful country and lots of it!
I'm almost half way across the country and the journey's turning out quite a bit different than I'd imagined. "You don't take a trip, the trip takes you," John Steinbeck reminds me in Travels with Charley.
The original plan had been to camp out along the way and I was thoroughly equipped to do so but the arctic temperatures have put those plans to rest. Even if I were stubborn enough to spend my nights in the great outdoors there doesn't seem to be anyone else dumb enough to do so - at least not since I've left Utah. What I'm seeing of America is coming mostly from the comfort of my Toyota Tacoma and the few stops I make each day.
I've also got my XM Radio to listen to, a trusty companion that keeps me in touch with the world. I've been tuned to the Weather Channel quite a bit the past few days. I'd call it bad weather but it's gotten me where I am today, far further south than if the days had been more pleasant and smack in the bottom middle part of Kansas. It's nearing 4pm and I've got sun at my back for a change. I'm even back in short pants though I've got to admit I haven't seen anyone with shorts on since early on in the trip.
Though this is prime farmland today, perfect to support the corn needed to create the new gold - ethanol - which the President promises will be the panacea for our nation's dependence on foreign oil. Perhaps but it is coming at a cost: the price of wheat is skyrocketing and the cost of supermarket staples is at an all time high.
Ironically, in the 1820s, the territory that would become Kansas was then popularly known as the Great American Desert because it was believed to be barren and worthless. As a result, the area was set aside "permanently" as Indian territory by the U.S. government and closed to settlement by whites. Unfortunately, closing the Kansas area to settlement did little to stem the flow of immigrants to the plains territories and by 1850 many of them were clamoring for the entire area to be opened for settlement.
But there was a problem: admitting Kansas as a free state would upset the balance between free and slave states. Underlying this was a cruel fact which the southern states had not yet come to grips: slavery was based on a cotton economy and cotton could not be grown in the western states. Nor was slavery suitable for the types of economic activities to be found there: mining, family farming, cattle and sheep herding and the like.
In 1854 Congress passed the Kansas-Nebraska Act was passed in 1854. Part of the act provided that settlers in Kansas Territory would decide whether to allow slavery within its borders, a politically expedient law that would not have been passed without the provision. This would lead to what is known as Bloody Kansas. Northern settlers invaded the territory, determined to make sure Kansas would become a free state.
Armed with what they called "Beecher's Bibles" - a termed coined by an influential minister Henry Ward Beecher who suggested that a rifle was better used than a Bible as a tool of persuasion. Thousands of others streamed in from Missouri. Known as "border ruffians" they were equally determined that the Kansas Territory would become a slave state. Violence would lead to a number of major confrontations and massacres over the next several years and ended only when Kansas was admitted into the Union as a free state on January 29, 1861, just a month before the provisional government of the Confederacy was set up in Montgomery, Alabama and two months before the Civil War began.
Of course I'm not thinking about any of this right now. I'm just enjoying the sun, thinking back on the fun of passing through Ford, Kansas when I come to an absolutely strange set of metal sculptures that line Highway 400.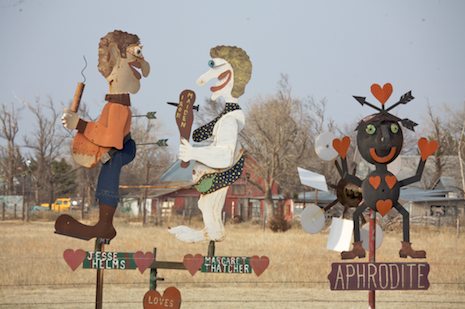 By Ray Ford