Surprisingly, just as I've gotten fairly close to the larger cities I've lost my Internet connection and haven't had one for several days so I'm getting much further along on the road than my stories would indicate.
The next morning after my somewhat unnerving trips through Greensburg, Kansas I'm feeling more comfortable than I was just a half day ago. But that may just be due to the fact that tornadoes aren't morning phenomena. However, that may not be true later in the day. A bit past Wichita I turn south on a local road small enough that it doesn't even have a state designation. Within minutes I'm crossing out of Kansas and into the eastern end of Oklahoma.
Almost without notice the geography has changed: what were small dips and gentle knolls in Kansas are turning into larger hills and deeper dips. I'm edging my way into the Ozarks, through towns such as Newkirk, Ponca City and Pawhuska. The driving is easy with little traffic on the road and the hills and valleys picturesque. The towns are equally picturesque, small towns that comprise a main street that consists of two or three blocks of century (or more) old stone and brick buildings. I hadn't really thought about it much while passing through it, but the plains aren't my "cup of tea". I like landscapes that have a backdrop, something other than distant horizons that seem to fade into nothingness.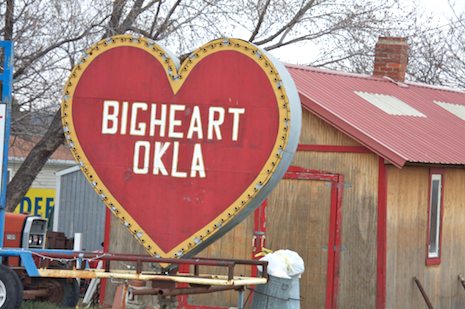 By Ray Ford