A day after San Marcos High inducted 12 new members into its Athletic Hall of Fame, another San Marcos grad made U.S. swimming history. Mark Warkentin (class of '98) became the first American to qualify for the Olympic open water swim by finishing seventh in the 10K race at the FINA (Federation Internationale de Natation, known in English as the International Swimming Federation) Open Water World Championships on Sunday, May 4, in Seville, Spain.
The top ten finishers in the race automatically qualified for the marathon swimming event that will make its Olympic debut in Beijing this summer. Warkentin finished in a time of 1 hour, 53 minutes, 37.1 seconds. He was 16 seconds behind the winner, Russia's Vladimir Dyatchin (1:53:21.0). It was a day of gratification and gratitude for the 28-year-old swimmer, who had competed in three U.S. Olympic Trials in the pool without success. "I have been in USA Swimming a long time and there have been a lot of failures along the way," Warkentin said. "I have had a lot of coaches in America who believed in me. Back home, they are going to wake up in a few hours and they are going to see Mark Warkentin made the Olympics. All I have to say to them is, 'The Olympics … and thank you.'"
Photo Gallery
Mark Warkentin's May 4 Race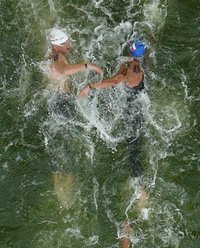 Shots of San Marcos High grad Mark Warkentin swimming in Seville on Sunday, May 4. Photos by Paul Warkentin.
Those coaches include UCSB's Gregg Wilson and John Dussliere of the Santa Barbara Swim Club. Dussliere accompanied Warkentin to Spain. "John said Mark swam a very good race strategically," Wilson said. "He took full advantage of his last feeding (a pit stop) with 800 to 1,000 meters to go. He was in the second group, with eight or nine swimmers ahead of him, and he went after them."
Warkentin, the reigning national champion in the 25K swim, is expected to compete for the world title in that event Thursday. The only open water event in the Olympics is the 10K. Meanwhile, a large crowd in the Page Center saluted San Marcos High's star-studded Hall of Fame class on Saturday night. The inductees included Kara Warkentin ('96), Mark's older sister who was a tennis champion at the school and now coaches her old team. Chuck "The Iceman" Liddell ('88), known locally for his pugnacity as a Royals football player and wrestler, became internationally famous in 2005 when he won the Ultimate Fighting light-heavyweight championship.