Take a little ride with me, now, from downtown into a lattice of atoms.
First head north on 101 to Ward Memorial, then west under the Henley Gate, past the new pre-postmodern mural, and deep into the University of California at Santa Barbara. Park the hybrid car in Lot 10, and don't forget to pay the machine as we take our first step into the unexpected.
Hark here the new Mall of Academe!
Observe the absence of those old army bungalows. They've tarted up the science end of campus nice now after millions poured into research coffers, especially since Chancellor Henry Yang-an engineer himself-began emphasizing the sciences with vigor. See this little confluence of science shops surrounding picnic tables, a food court, and open-air views of the airport and the slough. Over there's the Kavli Institute for Theoretical Physics (Nobelists on board!), the Bren School of Environmental stuff, the engineering place where blue-laser guru Shuji Nakamura hangs, and our final destination: the California Nanosystems Institute in Elings Hall, home to electron microscope and haptic technology (where you can feel the tug of a molecule's bonds), with warnings and showers and those as-seen-on-TV blackboards really filled with chalk equations. Up on floor two is the Media Arts and Technology (MAT) graduate program, where we now follow the Xeroxed paper signs: This Way to the Allosphere.
"There's nothing like it in the world," says host JoAnn Kuchera-Morin, the brain-parent of this enormous round room, this gateway to immersive media experiential bliss. She's not exactly right-there have been large immersive theaters since the early 1990s-but the Allosphere is both more immersive and less subjective, according to its proponents, as you will soon see.
After swiping a security card, we come into a darkened room where eyes grow used to the gloom first, and then to the wonder. X-Men fans may experience dej vu here-it's a gangplank bisecting a giant sphere, la Professor X's thoughtful spot Cerebro. Walking out, I grasp the railing nervously and, suddenly, on the screen to the right, a swarm of colorful, platelet-shaped lozenges dance to the sound of bubbly electronic music.
Please Enable Javascript in your Browser to Watch Videos
"You're doing that, by the way," laughs our host, "by touching the handrail." That makes me jump. "It's okay," she says, but by then she's into a litany of Allosphere logistics: three stories high, 2,000 square feet, engineered by sonic wizards to be acoustically neutral, making the sound in this round chamber equally good at any wavelength, anechoic. Right now, 16 four-inch speakers surround us, though eventually there will be 512. The sphere has two curved screens, suspended like floating mists in the semi-gloom. Only one side is currently operational, but soon spectators will be completely bombarded by sounds and sights of physical phenomena projected front and rear via supercomputer. All told, it's $5 million of erected flash technological accomplishment, with another $5 million needed to get it all the way up.
"Now, I'm going to fly you in there," she says, handing me a $600 pair of 3-d glasses while grabbing a joystick. And in we sweep.
It's appropriate that the first thing Kuchera-Morin shows me is the inside of a professor's brain: namely the thinking organ of Marcos Novak, who describes himself as a "pioneer in virtual architecture," but who also coined many terms that MAT students gleefully plug into conversations-"transvergence" for instance, or "transarchitecture." The brain of Novak, who also named the Allosphere, was earlier captured by an MRI machine that measured changes in his blood density while he watched videos of contemporary abstract art and examined them for balance, symmetry, and other psycho-aesthetic combinations not connected to realistic imagery such as people or puppy dogs. That makes Novak and his friends "the first artists to quantify beauty," believes Kuchera-Morin.
Despite the danger of exciting the bubbly lozenges, I hang on while diving through the depths of Novak's noggin. Crags, shelves, and deep abysses open, coursing through inner space, colors rushing past either side of us like the psychedelic astronauts from 2001: A Space Odyssey. Tints help delineate the occipital from the parietal or temporal lobes. All of this imagery is from data recorded, laid out in grids, and then colored in by computer operators-accurate on the one hand, visually resplendent on the other. (I'm for sure leaning more to Stanley Kubrick than Fantastic Voyage.)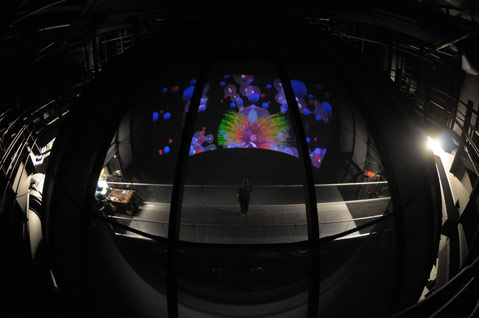 By Paul Wellman