While it is unclear precisely which addresses have burned, reports are that more than 2,500 people have evacuated, with more than 200 hunkered at the San Marcos High School shelter, many watching the map with a view to trying to figure out if their homes and those of their friends and neighbors are still standing.
The Independent will continue to add personal experiences of the fire to the bottom of this post:
UPDATE

: Mountain Drive Community

Trace Robinson's home at 356 East Mountain Drive was still standing as of this morning, but many Mountain Drive homes burned to the ground.

Trace Robinson and her family lived at 356 East Mountain Drive, next to the Tea Gardens, where the Tea Fire originated. It is near the heart of the historic Mountain Drive community. Robinson's house is one of very few still standing there.

Robinson said she was at home, getting ready for a family dinner when her next-door neighbor's young daughter, very excited, said to call 911. "I went out and saw flames up at the arches at the Tea Gardens," she said. She went inside to call 911 but couldn't get through, because her cell AT&T cell coverage is not very good from her house.

Robinson went to report the fire to her daughter and her daughter's fiance, who live next door; they hadn't seen the fire either. Robinson explained that because they were so close to the Tea Gardens, the fire was difficult to see from their vantage point.

She alerted other neighbors.

Robinson said she and her family did not have time to gather things to take with them, despite the fact that they are "very fire conscious and had all our stuff ready to go - papers in boxes and a mental list of pictures on wall that we wanted to take."

After her daughter's house burned, a fire broke out in Robinson's garage. The home of neighbors Zoe and Sean Stevens - a father and daughter who lived at 75 West Mountain Drive, atop Coyote Road - also burned, after which they came over to Robinson's house and started hosing down her garage. The Stevenses, who are in the Mountain Drive Volunteer Fire Department, ran out of water in their fire truck but were able to summon firefighters who put out the garage blaze.

"It's amazing how after losing your house you could have the heart to go over and save someone else's house," Robinson said.

Robinson and family members went back up this morning, between 9 and 10 a.m., to grab some possessions, but the smoke was overwhelming and firefighters asked them to leave. They saw all of their neighbors' houses burned. "Only mine and Gaby's are still standing," Robinson said. "We are hoping the winds don't come up and burn them too."

The homes of several of her family members who live within a mile east or west of her on Mountain Drive - the homes of her father-in-law, her mother-in-law, her two sisters-in-law, and her nephew - were among those that burned to the ground.

Robinson is presently staying at the Hotel Mar Monte, which is offering discount rates to evacuees, courtesy of Santa Barbara Bank & Trust. "I've had 100 people call and offer help; food, places to stay. It's unbelievable what my friends, what people in my community, are doing. I'm just blown away."
Mt. Calvary Retreat House Burned
It is with great sadness that I share that Mt. Calvary Retreat House was completely lost last night in the Tea Fire. I am struck with such a sense of grief for this beautiful and special place, also the current residence of 12 monks. I am devastated for them and the loss of their sacred home.
I am also in shock and disbelief, as just nine hours ago I was joined in community with 20 of my colleagues to explore issues of leadership and renewal. The serenity and spirituality of the Mt. Calvary Retreat House allowed for an environment of deep introspect and close connection with one another.
I am grateful to have had that meaningful experience with my peers in such a special place, and of course even more so now that that place is gone forever. I am also extremely grateful that all of us evacuated and are safe. I hope and pray for the monks' health and safety also. Mt. Calvary Retreat House - gone but not forgotten. - Monica Spear, Girls Inc. of Greater Santa Barbara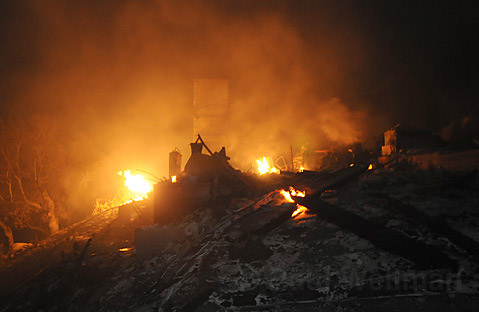 By Paul Wellman