By June 2009, UCSB will have begun construction on a state-of-the-art interactive marine science center called the Outreach Center for Teaching Ocean Science (OCTOS) that will include a floating lab, a virtual dive center, and a digital theater capable of streaming live video from anywhere in the world. In the works for three years now, OCTOS's designers hope that it will get students of all ages excited about marine science.
"Our primary goal is to provide access through the very opaque surface of the ocean," said Gay Larsen, OCTOS's director of development. "Not everyone is able to dive so we want to show people who can't dive the opportunity to be a researcher and explore the mysteries of the ocean."
The center is also looking to entice University of California students into becoming science teachers, which the state is in desperate need of and will theoretically lack even more in years to come.
"There is a huge gap between the rate of science and math teachers we're producing and the amount of teachers we will need," said Steve Gaines, OCTOS director and UCSB professor. "Its the perfect opportunity for us to increase the number and quality of math and science teachers." One of the center's planned features that has generated a lot of excitement is an interactive globe that can can project what Earth looked like at any point in time. "We are taking data in a variety of forms and displaying it in this sphere," Gaines said. "It can be dynamic, you can do anything, it opens a window to the ocean."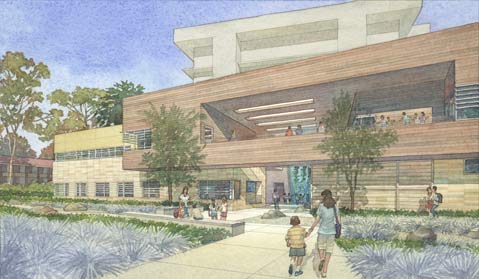 By Courtesy Photo