The contemporary Broadway musical feeds on so many sources that at times its capacity to absorb other genres can seem almost infinite. First Hair and Godspell brought rock music to the Broadway stage, and the power of the book musical was broken. After the deluge that lasted throughout the 1970s and 1980s, Stephen Sondheim tested the limits of what a show could be about by choosing a range of dark (Sweeney Todd) and intellectual (Sunday in the Park with George) subjects. Safer choices, such as drawing on the animated films of Disney, followed for a time in the 1990s, but it wasn't long before shows like Hairspray and Avenue Q became hits and normalized sources (underground "midnight" movies, R-rated Muppets) that would have previously been unimaginable. Now, into the ever-expanding world of the Broadway musical, comes The 25th Annual Putnam County Spelling Bee by the innovative and Tony Award-winning William Finn, a show which marries the rapid-fire, anything-goes sensibility of improvisational comedy to traditional Broadway musical values. The show's touring company comes to the Granada next week as part of the Theater League's Broadway at the Granada series. I recently spoke with one of the young cast members, Ryan Goodale, who plays Leaf Coneybear.
I understand that this show originated in an improv group.
Yes, the New York improv group called The Farm was where it got started, and then it was workshopped in Barrington to become a full-scale play. We have a script, but we are allowed, and in some instances even encouraged, to stray. There are four people at every performance who are chosen from the audience to join us onstage and participate in the spelling bee. We have four understudies who do the picking, and they are also responsible for orienting the audience participants so that they know how to act once the show is on. We can kind of control them through the words they get-we give them easy ones to keep them in, and hard ones to get them out.
What's your character, Leaf Coneybear, like?
All the kid characters in the show are supposed to be in middle school, so they range in age from about 10 to 12. Leaf has been homeschooled, so he doesn't have all the social skills that the others do. He also has bright red hair.
Do you have bright red hair?
I do now-we just re-dyed it this morning.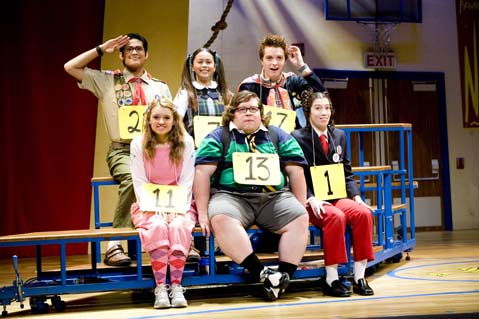 Scott Suchman