I'm supposed to be slurping; I've been given permission to slurp. But it's hard, as the noise is silly and makes me giggle, and giggling makes me dribble. Sophisticated people don't have coffee leaking from their lips. But smarter people might.
Dan Charoenrath, manager of Santa Barbara's second Peet's Coffee & Tea, which opened at 1131 State Street the day before Election Day, is teaching me the ins and outs of comparison coffee shopping. That involves tasting, something Peet's is all about. Alfred Peet, the company's founder (in the way Jesus was the founder of Christianity or Ruth Fertel is the founder of Ruth's Chris Steak House, they all get quoted a lot by their followers), is famed for saying "tasting is comparing." So Charoenrath and I are tasting Peet's Holiday Blend, Major Dickason Blend, and Arabian Mocha-Java, discerning each coffee's flavor profile.
As with a wine tasting, which this event is very much like, you start with smell. "A big part of whatever is in the flavor is in the aroma," Charoenrath said. "All those good notes come through the nose." Next comes the slurping, as you should get some coffee in you mouth and draw air over it to be sure to activate your tongue's varied taste buds. Then I prefer to let Charoenrath, much more the coffee expert than I am, describe. For instance, he calls this year's Holiday Blend (yes, like Anchor's holiday ale, it differs a bit each season) "rich, warming, maybe a little spicy-sweet."
Turns out this Holiday Blend has a story, as its beans mostly are from Costa Rica, and as Charoenrath said, "It comes from this farm that's starting to die away because of urbanization. They produced an amazing crop this year, so we felt we owed it to them to call it out. And Latin American coffees are traditionally spicy, with a very nice bright acidity like this one." Of course there are secret elements to this blend, too-some Indonesian beans, but how much and from where you're not allowed to know. You will know it's one tasty brew, if you try it.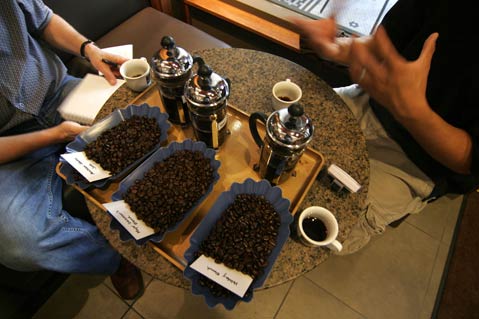 By Jen Villa