Since a group of teenagers attacked and killed another teenager in the middle of downtown Santa Barbara on a sunny March 2007 afternoon, everyone - from city councilmembers and cops to business owners and schoolteachers - has been up in arms about what to do about "the gang problem." Amid committees being formed, speeches being delivered, editorials being written, and neighborhoods being raided, another two teenagers have been stabbed to death and violent battles between the Eastside and Westside gangs - including one incident involving gunfire and a Molotov cocktail on De la Vina Street - occur almost weekly. There has been plenty of talk and some effective police activity, but very little progress in giving these mostly lower-class Latino kids an alternative to gangbanging.
founded in January 2003 by filmmaker and activist Osiris Casta±eda, offers practical video, photography, and graphic design training for these teenagers, giving them real-world experience working on contracted projects and leaving them with the skills they need to find jobs on their own. The program is just one of six in Santa Barbara targeting "hardcore, high-risk" kids-including some who step in and out of gang life and drug use-and the only one in town educating this demographic every single day of the week. And it's popular, with about 50 students coming multiple times each week.
But despite its effectiveness in offering these difficult-to-reach kids a daily excuse to avoid gangbanging, Youth CineMedia must continually fight for money to stay alive, and not just as a result of the fierce competition for donations against long-standing "at-risk youth" programs, which don't really appeal to the hardcore element. The deeper problem is that what it takes to attract these kids and keep them coming-a laid-back, cool, colloquial atmosphere where the conversation is honest but not always politically correct-is not an easy thing to show off to the philanthropists, foundations, and government agencies that donate money to such causes. The challenge, then, for Youth CineMedia and similar hardcore-targeting programs is: Can they remain rough enough to save the tough kids, but become smooth enough to bring in the dough?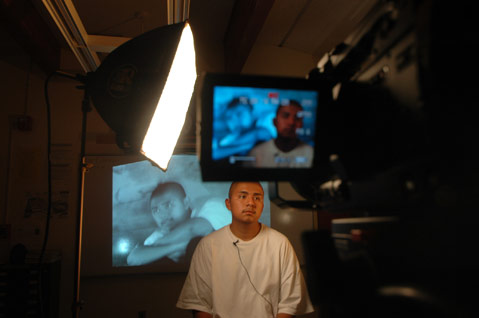 courtesy youth cinemedia