While six smaller fixed-wing aircraft ferry load after load of a thick green substance known as "hydromulch" from the airport, at Rancho San Fernando the huge Erickson Air-Crane known as a "heavy lift" sucks up from 1,800-2,000 gallons of it, lifts off, and within minutes is back on the ground ready for the next load.
At the morning briefing yesterday, September 30, there was optimism that the Los Padres Forest portion of the coverage would be completed this weekend. "Actually, we're scrambling a bit to get our contract finished for the mulching to be done on the private lands," Deputy Public Works Director Tom Fayram said. "But this is good news because this should allow us to complete the balance of the work by the end of next week."
Fayram also noted that all of the stream clearing work has been completed, the sediment basin work has been finished, all but one of the debris racks is in place, and all that needs to be done is add "K" rail along Los Carneros for flood protection and clear out one culvert in the Rancho del Ciervo area.
Though Fayram is optimistic, the bottom line may be what happens on the slopes of the Santa Ynez Mountains this winter. Thus far, just under 50 percent of the 1,531 acres being treated with hydromulch by the Forest Service has been coated. "Yesterday we had 231 trips made by the fixed-wing aircraft and 92 by the Air-Crane," Forest Service spokesperson Helen Tarbet said. "So far we've dropped 1,800,000 gallons and the weather is being extremely cooperative. Without the marine layer in the mornings we're able to get an early start."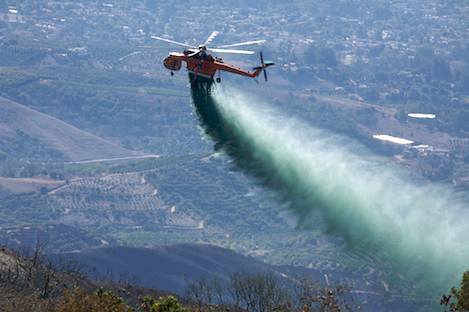 By Ray Ford