I've known Jose and Sanjua for a few years. I've always admired them not only for their success as entrepreneurs, but mainly for their family values and for their humbleness. But don't get me wrong: This interview was not an easy one to get. They finally agreed to it, but in exchange, I had to accept a dinner at their home. Being the devoted writer that I am, I said yes.
Once at the dinner table, the conversation flowed as the roasted lamb garnished with veggies and rice, and the salsa, guacamole, and tortillas were quickly disappearing.
First, we spoke about the business's name. "El Sitio," in Spanish, means the "place, the site." El Sitio is also a town located in the Mexican state of Zacatecas, "where we were born and raised," Jose and Sanjua proudly said. However, in Santa Barbara, Goleta, and Isla Vista we identify "El Sitio" as the place where we can go for lunch or dinner, and enjoy great Mexican food without going out of our budget.
Jose started by telling me that he arrived in Santa Barbara in 1971, and Sanjua, his then fiancee, arrived in 1979 to get married and established. From the beginning, they knew they were here to prosper and create a future for themselves and their future family, but never in a million years would they have imagined what they have so far accomplished.
"My parents were poor, very poor farmers who grew corn and beans. As the oldest son of 13 children, I helped my father with planting and harvesting." Jose said. It is with humbleness that Jose explained that "in the old days we didn't have tractors. One of us would be guiding the horse that carried the plow, while the other one went behind covering the seeds," he remembered.
Once in Santa Barbara, Jose's first business was gardening while Sanjua got a job at the production line at CUI Corporation. For this young couple, hard work and saving were their creeds. "We worked really hard. I worked from 6 a.m. to 8 p.m. When Sanjua came back home from work, she did the bookkeeping and accounting for our business. She's always been good with numbers."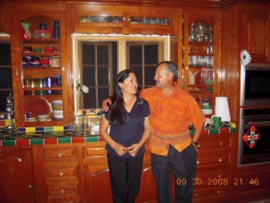 By Silvia Uribe