Elie Weisel, perhaps the most celebrated holocaust survivor, said in an interview in the July-August issue of Foreign Policy Magazine, "A fanatic is someone who doesn't listen to [anything] but his own ideas. A fanatic never has any questions, only answers." In an effort to curtail the kind of fanaticism from which the Holocaust was born, groups and individuals worldwide have worked tirelessly throughout the past decades to promote understanding and empathy between different peoples. While important for avoiding the extreme situation of genocide, understanding and empathy also play a vital role in the context of day-to-day life by nurturing better relationships between local factions. This is the kind of communication sought by the Jewish Federation of Greater Santa Barbara through its Portraits of Survival program.
Portraits of Survival: Life Journeys During the Holocaust and Beyond is a permanent exhibit of pictures and personal narratives from people who survived the Holocaust and eventually found themselves in Santa Barbara, as well as an educational program that features survivors who speak with groups of all ages and backgrounds about living through the Holocaust and making a life afterward. Every Holocaust survivor in town (there are about 45) has an intense story to tell; the fact that they are even alive is a testament to the human will to endure any hardship. After persevering despite the horrors of Nazi-occupied Europe, they still faced formidable challenges. Having lost family members-some had no family left at all-the odds stacked against success for these individuals, some were forced to continue running as the government changed from Nazi to communist, others, migrating to the United States, Canada, and Israel, faced language and culture barriers.
The common thread running through all of these stories is a certain optimism and refusal to give up even when placed in the worst scenarios. "I'm a survivor of the Nazis, and also an escapee from communism, so I'm a double dipper," George Rusznak told a group of Santa Barbara Police officers who came to tour the Portraits of Survival exhibit and listen to some of the survivors tell their stories. "I don't think of myself as a survivor. I think I live a pretty charmed life."
Other survivors-such as Helga Carden, an assimilated German Jew who bade her father goodbye for the last time in 1939, when her parents put her on one of a limited number of children's transports to France-noted that the experience forevermore changed the way she related to other people. "I became a loner and self-sufficient," she said. "I don't make any deep attachments because when you lose everyone at a young age, you don't feel very safe getting attached to people." Despite her hardships, she was able to complete nursing and anesthesiology school, creating a successful career and having her own family.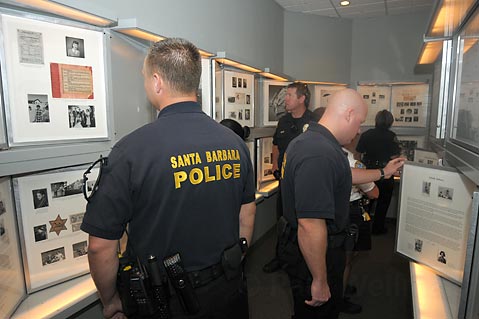 By Paul Wellman