There is nothing like a wildfire roaring downhill, threatening to burn homes and forcing thousands of people to evacuate in a panic, to illustrate the dilemma Santa Barbarans face every day: We love living right on the edge of one of the world's most scenic backdrops, but the privilege brings with it the potential for catastrophic disaster most any time the weather turns hot and the wind blows dry.
That's what happens when you build homes next door to one of the most flammable ecosystems on earth-the chaparral-and just hope for the best. The dull green brush covering the front side of the Santa Ynez Mountains is a tough mixture of drought-resistant plants, 15 to 18 feet tall. Thick enough that it is almost impossible to penetrate once fully mature, the chaparral represents an equally tough challenge for those who have to figure out how to manage it.
Eyes Wide Open
Until we're in the midst of an inferno like the Gap Fire, it's easy to be complacent. But on July 3, smoke was swirling through the streets of Goleta, 100-foot flames were nearing the Edison power lines, there was no electricity, and massive evacuations were underway. Onshore winds were now pushing the fire northwest. Extending his index finger and thumb so there was just a sliver of space between them, County Fire Public Information Officer Captain Eli Iskow said, "We were just that close to the fire directly threatening Santa Barbara."
By the end of the following week, everyone breathed a sigh of relief, knowing we'd dodged another bullet, like we did with the Zaca Fire last year. But as the smoke cleared, the questions began to mount. What if the fire had jumped Highway 154? What if it had started above Santa Barbara rather than Goleta, whose orchards served as buffers between the wildfire and the homes? And most of all, do we have the will and the pocketbook to do what is needed to protect lives and property before the fire next time?
"In an ideal world, you'd never mix homes with brush that is this flammable," said Santa Barbara County Fire vegetation specialist Captain David Neels. Nonetheless, thanks to spectacular views, and the irresistible opportunity to live in beautiful natural surroundings, there's been an explosion of new homes built on the edge of the chaparral since the 1950s. Working on the Grand Prix Fire in the San Bernardino Mountains in 2003 brought the danger home to Neels in vivid terms. "When almost a thousand homes burn in a fire you've been fighting and you can't save nearly enough of them, you don't forget that easily," he said. "There were areas where we could see it might be safe to go into a neighborhood and save homes but then a few minutes later the wind would shift and we'd thank ourselves that we didn't go in right then. With the right wind and location, there's no doubt a fire of that magnitude could happen here."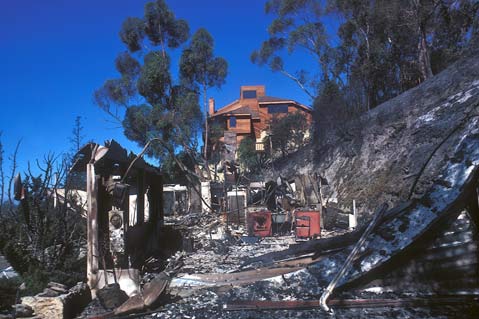 Keith Cullom