Sandra and Alexandra Valdez are 14-year-old identical twins with all the interests and hobbies American girls their age have today. They hang out with friends after school, listen to their iPods, and on the weekends they go to the mall. There's even some talk about a boyfriend or two.
Two-and-a-half years ago, there was another, less healthy characteristic they shared with a portion of American youth. They weighed 160 pounds each, 40 pounds overweight.
Considering their lifestyle at the time, it's not surprising they were so heavy. Their lunch at school consisted of pizza and soda. Their morning snack was chips. After school, they watched television, munched Flamin' Hot Cheetos, and drank soda. They didn't like being fat, but didn't think they could do anything about it. Their mother, Maria Gutierrez, also was overweight-and worried. Both her husband and her father have Type II diabetes, the genetic, life-threatening condition that's often triggered by excess weight.
But this is not a doom-and-gloom story. It's a success story, actually, about the quiet efforts of a Santa Barbara doctor and his staff to keep today's children from becoming the first generation of kids to have shorter lifespans than their parents. And that's not a scare tactic. Though the steady rise in the number of obese children in America apparently has plateaued, the numbers are still frighteningly high compared to what they were 20 years ago. A National Health and Nutrition Examination Survey taken between 2003 and 2006 found 15.5 percent of kids between 2- and 19-years-old were overweight and 17 percent were obese. Santa Barbara's quotient of overweight and obese children is statistically equivalent. David Pettitt, the acclaimed diabetes researcher at Sansum Diabetes Research Institute, measured the height and weight of 2,701 Santa Barbara high schoolers in 2005 and found that 14.9 percent of boys were overweight and 15.9 percent obese, meaning that 30.8 percent of high school boys in the county had a weight problem. High school girls were slightly better off, with 16.6 percent overweight and 10.6 percent obese.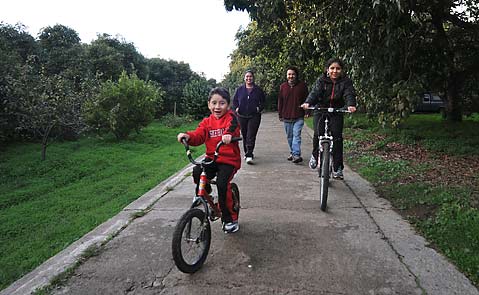 By Paul Wellman