THE
ARTS
79th Annual Children's Fiesta Parade
Participate in this S.B. tradition and make memories for your family. Applications are available in mid May to enroll for this free event.
Contact the Children's parade Headquarters at 897-1982 to be put on the mailing list, or stop by the Cabrillo Pavillion Arts Ctr. (1118 E. Cabrillio Blvd.) during business hours, Mon.-Fri. Deadline to submit an application for participation is Fri., July 3.
Art by the Sea Summer camp
Carpinteria Valley Arts Center presents Art by the Sea Summer Camp, a fine art summer camp for children. Art by the Sea Summer Camp gives children a chance to draw, paint and make art inspired by the ocean. Children will participate in weekly fieldtrips to the beach, sketching sessions in the Arts Council's gallery, talks by working artists, and more. A mini art exhibition at the end of each week will showcase the children's many projects. All classes will be taught by experienced art teachers Jenn Buur and Maureen Foley in downtown Carpinteria. Weekly Themes: Animals A to Zebra; Sea Me, Sea You; and Planes, Trains & Automobiles.
Several one-week sessions, June 23-August 1. 855 Linden Ave., Carpinteria. $150. Ages 5-12. To register, email cvacsummer@yahoo.com or call 259-5099.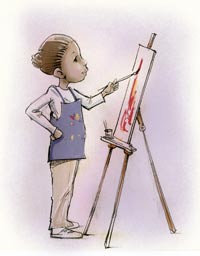 Ben Ciccati