ART FORCES AND CULT FILMS: Director of Westmont College's Reynolds Gallery Judy Larson will give a free lecture this evening, Thursday, April 16, on the evolution of museums in the 21st century, art as a unifying interdisciplinary force, and the opening of Westmont's new Adams Center for the Visual Arts. The talk begins at 5:30 p.m. at the University Club (1332 Santa Barbara St.). Call 565-6889 or visit westmont.edu for details.
The name Michael Deeley may not ring a bell, but surely the names The Wicker Man, Blade Runner, and The Man Who Fell to Earth do. Producer and founding member of the British Screen Advisory Council, Deeley has been linked in some way or another to all of these iconic films. He'll be in town to sign copies of his memoir, Blade Runners, Deer Hunters, and Blowing the Bloody Doors Off: My Life in Cult Movies, this afternoon, Thursday, April 16, at 4 p.m. at Barnes & Noble (829 State St.). Call 962-8509 for details.
CLOSE TO HOME, FAR FROM HOME: We Are Rich, regional author Dori Carter's latest comic novel, sees publication on Tuesday, April 21. This story of the transformation of idyllic California hamlet Rancho Esperanza spans six decades and as many economic strata, building a social satire of modern hillside wealth and how it got that way. Visit randomhouse.com for details.
This month, Santa Barbara sees a visit not just from the Dalai Lama but also from Gyalo Thondup, His Holiness's older brother. Thondup and Dr. Tashi Rabten, president of the International Tibetan Medical Association, will appear at the opening reception of Tibet: Magic and Mystery, an exhibition of Tibetan photography new and old at the Bronfman Family Jewish Center (524 Chapala St.). The reception takes place on Wednesday, April 22, at 5 p.m. Call 957-1115 or visit jewishsantabarbara.org for details.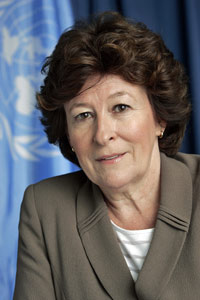 Mark Garten