Why spend thousands on plane tickets and days in airports to visit some weird foreign country when you can drive fewer than two hours into the heart of West Hollywood and discover a planet where people dress, talk, walk, and act just as peculiarly as they might in some faraway land? That's what I found during a recent visit to the Sunset Strip, where the really rich and wannabe wealthy mingle poolside all day and scope each other out all night. It's a visually beautiful, often humorous, and constantly entertaining people-watching scene where those who're planning on being the next big thing spend their efforts trying to spot the current big thing, while the rest of us things just try to relax and have a good time. And when it comes to diving into Los Angeles culture, version 2009, there's one prime portal ready to welcome us all: the Mondrian Hotel on Sunset, where lavish rooms, tasty in-house dining, and a poolside bar with unrivaled views combine to give a weekend escape into the heart of Planet West Hollywood.
Stay
Opened in the late 1950s as an apartment complex, the Mondrian Hotel was turned into a stylish hotel in 1996 by Studio 54 founder Ian Schrager, the onetime Miramar Inn sugar-daddy who later sold the property to the Morgans Hotel Group. The property was fully renovated last fall by Benjamin Noriega-Ortiz, who's done personal work for Lenny Kravitz and Sean "Puff Daddy" Combs. Noriega-Ortiz turned the lobby into his version of a Wonderland-esque "rabbit hole," with "creamy whites and a warm marigold palette" morphing into darker shades of blue and purple the farther you go, and a "mushroom-inspired concierge center"-complete with a centrally located swing-to top it off. The mind-bending style carries into the guest rooms as well, where flowing whites dominate, but a revolving orange mirror/television console occupies the center of the room, leading to a few minutes of fascination no matter your age. The properly stocked wet bar, cloud-like bed, ample chill-out area, and sleek bathroom design will make you want to call the room home for more than a weekend. See mondrianhotel.com.
Chow
Like any well-mannered hotel, the Mondrian features an excellent in-house restaurant: Asia de Cuba, run by famed restaurateur Jeffrey Chodorow, who opened Manhattan's China Grill in 1987, which fast became a New York City hot spot. Not satisfied with the Chinese-leaning theme, Chodorow turned into a leader of the fusion food movement, and now his properties are renowned the world over, known for tasty food, an eye for decor, and ample portions, a relief for those of us who find the current tiny-dish trend a bit overpriced.
On my visit, the three of us opted for the tasting menu-$67 each, but $99 for the two of us who wanted wine pairings-and found tongue-tantalizing happiness in the mix of Latin and Asian spices, from the braised beef spring roll with black bean papaya salsa and calamari salad with chayote, hearts of palm, banana, cashews, and sesame orange dressing to the miso-cured Alaskan butterfish with tempura peppers, and crispy tofu with soy lime chipotle marinade, which was the veggie tasting menu's centerpiece. Our only suggestion would be for more robust Californian wines to be paired with the powerful flavors, as the dainty, although zesty, French wines were often blown away.
And in the morning, stay in bed a little longer and order the breakfast burrito and bagel-with-the-works from room service. It's not cheap at $30 for both, but gratuity is included, so you'll probably spend less than going out for breakfast somewhere else. See chinagrillmgt.com.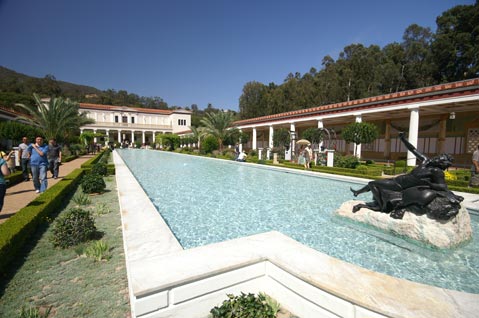 By Matt Kettmann