Every time the Santa Barbara International Film Festival rolls out the red carpet, The Independent's photographer Paul Wellman is on the scene, shooting away as the stars go by. And every time that red carpet rolls up, you can find his best shots here at independent.com.
Here's his work from Saturday's Panels.
Photo Gallery
2009 SBIFF Producers Panel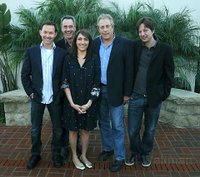 Moderated by Los Angeles Timescolumnist Patrick Goldstein, the panel included Jim Morris (Wall-E), Neda Armian (Rachel Getting Married),Dan Jinks (Milk), Christian Colson (Slumdog Millionaire) and Charles Roven (The Dark Knight/Get Smart).
Photo Gallery
2009 SBIFF Womens Panel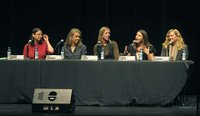 Moderated by Madelyn Hammond, former Chief Marketing Officer of Variety, this year's panelists included Jacqueline West (Costume Design, Benjamin Button), Dody Dorn(Editor, Australia), Barbara Munch (Set Director, Milk),Ginger Sledge (producer, Appaloosa), Taraji P. Henson(actress, Benjamin Button) and Courtney Hunt (Frozen River). Sponsored by Sandy Stahl.