I saw Payton Jordan for the last time at a track-and-field meet six months ago. The old coach was 91, and cancer had whittled him down to the leanest sinew and bone. Yet his smile was still bright, and his handshake was firm. That was not surprising. He had always preached and practiced a life of vigor.
He had spent almost a decade of active retirement in Santa Barbara. He showed up at the City College track, dispensing advice and encouragement to young athletes. He inspired his peers at Vista del Monte to work out at the community's fitness center. He bounced back from a bout with cancer a few years ago and cared for Marge, his wife of 67 years, in her failing health. After he lost her, he decided to move on. He said farewell to his Santa Barbara friends in June of 2007 and relocated to Laguna Hills, closer to his daughters and grandchildren. Payton Jordan died there last Thursday, February 5.
Obituaries heralded his life of accomplishment: an outstanding sprinter who also played some football at USC; an esteemed coach at Occidental College and Stanford University; the head coach of the record-shattering U.S. men's track-and-field team at the Mexico City Olympics in 1968; a pioneer in masters athletics who set world records into his eighties, earning himself recognition as "The Silver Streak."
It was at the U.S. Olympic Trials in Eugene, Oregon, that I saw Coach Jordan last summer. That meet was considered one of the finest ever staged in this country, attracting 167,000 spectators to eight days of competition. Most of them were not old enough to remember the meet that was the greatest of all in its spectacle and emotional impact: the 1962 dual meet between the United States and the Soviet Union, a two-day event that put 155,000 people in Stanford's stadium and drew a nationwide television audience. Payton Jordan was the mastermind of that show, which ended with Americans and Russians spontaneously parading arm-in-arm around the track, a significant thaw in the Cold War.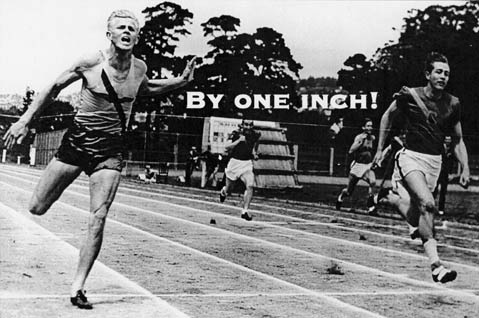 By Courtesy Photo