As recently as 2006, it was nearly impossible to get a share in Fairview Gardens' Community Supported Agriculture Program. There were 85 members and 300 on the waiting list. As the gardens' acting executive director Tiffany Cooper puts it, "You pretty much had to wait until someone died to get in."
That year, Fairview reduced its participation in farmers markets so enough produce became available for 150 member shares. The next year, Fairview brought another 10 acres under cultivation and was able to double the shares it offered. Even with little or no marketing, 250 families are signed up to begin picking up their weekly allotments of organic, locally grown produce from the farm in Goleta on January 19, the start of the winter season. The most memberships Fairview can offer are 300, and the remaining spots are going fast.
Community Supported Agriculture (CSA) creates opportunities to invest in local farms. CSA members make a commitment-and pay in advance-for a portion of the produce grown at the farm, typically on a yearly basis. Members know they will have a consistent supply of produce when they pick up their weekly shares, and farmers know ahead of time that they can count on selling a certain portion of their crop.
CSA appeals for many reasons. Many believe that locally grown, organic produce is fresher, healthier, tastes better, and has a lower carbon footprint than factory-farmed food trucked long distances to grocery stores. Those investing in local farms put their money where their values are, whether for political or environmental reasons. But those who join often find that there are unexpected pleasures of belonging to a CSA.
CSA members frequently discover that they have become more adventurous, better-educated cooks. Since the contents of a share are predetermined for any given week, members often are challenged to figure out what to do with the variety and with odd novelties like kohlrabi, kabu (Japanese turnip), or Hachiya persimmons. For those not adventurous enough to experiment, the CSA newsletter provides recipes and serving suggestions. Cooper said customers often comment how much they appreciate being exposed to "things they would not have thought of or did not even know about. In a supermarket, people end up buying the same things over and over. CSA helps them get out of their food rut."
Others value the CSA for its convenience. When you are a part of a CSA, you make a single stop for all your produce for the entire week. Member Stephanie Christoff is one who doesn't miss having to figure out things for herself. She explained, "I love the convenience of someone else selecting the week's bounty for me. It's one decision I don't have to make!" According to Cooper, members begin calling almost immediately after the season ends in November, asking when CSA is starting up again. "They get into a routine and they miss it," she said. "They don't want to have to go out and battle crowds to get their food."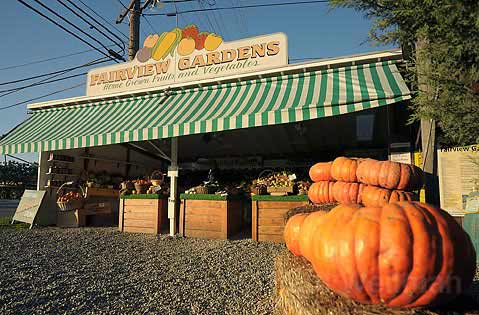 By Paul Wellman