Steve Pappas isn't giving up just yet.
The two-time candidate for the county's 3rd District Supervisor seat has filed a lawsuit in Santa Barbara Superior Court contesting the November 3 election, an action he hinted he might take a few weeks ago while in the midst of a recount of several Isla Vista and UCSB precincts.
When all the votes were counted, Pappas lost to Doreen Farr by 2.27 percent, a difference of 806 votes out of 35,621. But according to a press release sent out on December 31, roughly 600 registration cards were reviewed and Pappas's team "found conclusive evidence that many voter registration cards are illegal." Missed deadlines and improper or invalid registering and filing techniques were among the allegations Pappas has made to suggest hundreds of voter registration forms are illegal.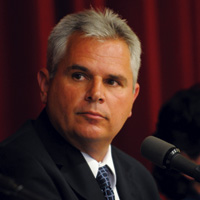 By Paul Wellman