Something is seriously wrong with the Brown Pelicans that can often be seen cruising the coastline in single-file formation, surfing the air just above waves, or diving for fish. Reports from Baja California to Washington all note the same mysterious symptoms, though nobody has been able to identify the cause.
The pelicans are being found in unusual locations, often far inland, and appear fatigued and disoriented. Some are already dead. Bruising has also been noted on their pouches and feet.
"It's not just Santa Barbara, and it's not just California," said Julia Parker, director of animal affairs at Santa Barbara Wildlife Care Network.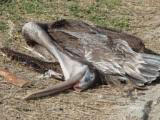 Cheryl Walker