She's strong, smart, tall, blonde, beautiful, and scary. Yes, behind that smiling, friendly exterior, Anne Marie May is a shark in the water.
"She's very supportive of all the swimmers," UCSB swimming coach Gregg Wilson said. "But when she gets on the blocks, she'll rip your throat out; and then she'll say you did a nice job and be very sincere about it."
May is a third-year Gaucho swimmer who is rewriting the record books in the women's freestyle sprints.
"She's a beast," said senior Bradley Matsumoto, the Gauchos' top male freestyler. "She's very humble, but when it comes down to racing, she's got that natural killer instinct. Within minutes of the start of a race, her personality changes."
It happened at the NCAA Championships last year. May reached the finals of the 50-yard freestyle. "She was sweet and talkative before the race," Wilson said. "She was seeded seventh, which put her out in lane one. She went nuts when she hit the water and finished third."
May went to the U.S. Olympic Team Trials and exceeded expectations by qualifying for the 50-meter semifinals. "I was in the heat with Dara Torres," May said last week. "I couldn't believe I was in the waiting room with her. That woman is a gorgeous specimen. She joked about her age. She said where's her walker? She said it would tire her out to walk to the pool. It surprised me how light-hearted and fun the atmosphere was."
There could hardly be a greater gap in experience than there was between the 41-year-old Torres-who went on to make history at Beijing, her fifth Olympics, by winning three medals -and the 21-year-old May, who had begun competing seriously just two years earlier. She came to UCSB from Carmel without an athletic scholarship. She played water polo in her first year, and then she decided to give swimming a try.
"I call her my gift," said Wilson, in his 33rd season at UCSB. "She literally fell into my hands. We recruit 24/7 all year 'round, and Anne Marie shows up in my office and says, 'Can I come out?'"
"I came here because of the school," said May, who's majoring in communications. "I didn't have a conventional swimming career. I'm really lucky to be on the team."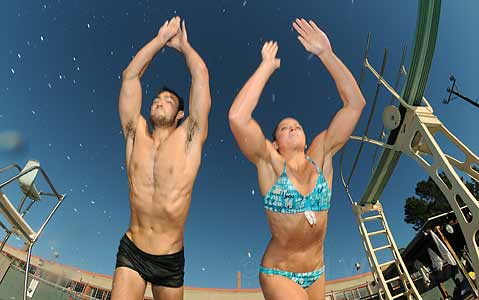 By Paul Wellman