Though we Americans love to trumpet our system of justice throughout the world, anyone with two eyes can tell that it's biased against the poor, the uneducated, and the nonwhite. This is the reality tackled by the film American Violet, a compelling and true story of one Texas woman, Dee Roberts, and her plight to defeat bogus drug-peddling charges and challenge the corrupt and racist methods of her county's District Attorney. An eye-opening tale set against the backdrop of the Bush-Gore election in 2000, American Violet's outspoken message against plea bargaining-which is how 95 percent of American prisoners go to jail-and abuse of power is a matter of national shame, and anyone who cares about the state of American justice must watch.
The film is the first installment of this summer's Alternative Film Series at the Lobero Theatre. Sponsored by the Santa Barbara International Film Festival, the series will feature films about postwar relations in Rwanda, the political realities of Burma, and the last actions of a dying man in Patagonia, among many others. The series, explained film fest head honcho Roger Durling, is a response to those who want more films like the ones shown during SBIFF. "People have repeatedly asked us to showcase throughout the year the type of films we program during the festival," said Durling. "If this small sample is successful we will consider doing it continuously. Also, due to the financial situation, independent films are getting less and less distribution opportunities. Our series might be the only chance to see some of these films."
American Violet director Tim Disney spent time answering a couple questions from The Independent.
Has there been any national effort to address the plea bargaining problem? Yes, there are many groups and individuals making all sorts of efforts on the issues raised in the film, the abuse of plea bargains among them-the ACLU, Human Rights Watch, and the Drug Policy Alliance, to name just a few.
There is a place for plea bargains. They can be and are used to fairly reduce charges and to reduce crowding in courts so that important cases can be given the time and resources they deserve. Plea bargains are not in and of themselves a bad thing. But the overuse of them by cynical or complacent prosecutors leads to all kinds of problems.
The bigger issues, I think, are absurdly harsh drug sentencing laws, mandatory sentencing, disparate treatment of different drugs, and the like. Drug addiction is a terrible thing, to be sure. But it is, and should be treated as, a public health issue.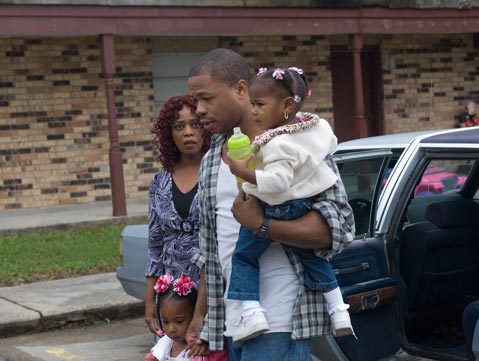 Scott Saltzman / SAMUEL GOLDWYN FILMS