From day one of their investigation, authorities thought they had their man.
It didn't take long after hikers found the body of 15-year-old Nicholas Markowitz - buried in a shallow grave at Lizard's Mouth in the mountains above Santa Barbara on August 12, 2000 - for investigators to name Hollywood as a prime suspect in the murder.
His friends were quickly gathered and arrested by authorities, and subsequently tried and convicted of crimes related to the murder. But Hollywood escaped, eventually to Brazil. Nine years later - and four since his capture - a Santa Barbara jury agreed that Hollywood was in fact intimately involved in the killing of Nicholas Markowitz.
The now-29-year-old was convicted Wednesday of first degree murder by a Santa Barbara jury of nine women and three men. The conviction comes with a special circumstance enhancement that means Hollywood faces either death or life in state prison without the possibility of parole. That special circumstance is that the murder was committed during a kidnapping.
Hollywood was also convicted of a lesser charge of simple kidnapping, which adds up to a three- to eight-year prison sentence. The prosecution had been seeking an aggravated kidnapping conviction, in which the kidnapping would have to be for ransom or extortion and eventually led to Markowitz's murder. That aggravating factor, of which Rugge was convicted, could have carried a sentence of life behind bars.
Prosecutors believed Hollywood and friends kidnapped Markowitz as the result of a $1,200 drug debt Markowitz's older brother, Ben, a former marijuana dealer friend of Hollywood's, owed. An ongoing feud escalated over time. One day, as Hollywood was looking for Ben Markowitz, he instead came across Nick and threw him in a van. Less than three days later, Nick Markowitz was shot nine times and killed by Hollywood's friend Ryan Hoyt.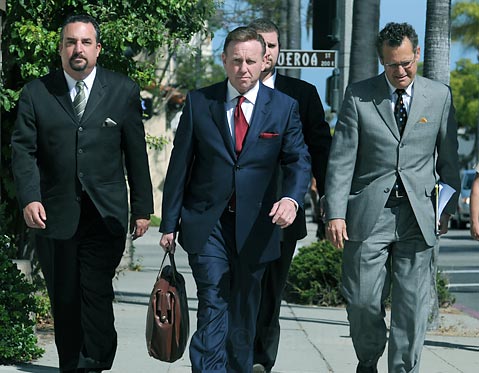 By Paul Wellman