It's midnight, and you've just stepped foot for the first time on Santa Barbara soil, jetlagged and delirious after a 24-hour frenzy of globe-trotting flights and far-flung airports. You're a bright-eyed 18-year-old who knows very little English, and you're standing on the doorstep of a strange person's house where a taxi dropped you off. This is where you're supposed to be living for the next six months, so you knock, but no one answers. You start to panic, but then see the note, which you can barely read: "I am in Las Vegas for New Year's. Feel free to make yourself at home. Have some food from the fridge. We will see you in a few days." It's January 2, it's cold, and the fridge is bare-bones.
Welcome to America.
This was how Charles de Vos arrived in Santa Barbara when he flew in from his native Belgium to begin an English language course earlier this year. De Vos, who since has come to find the town warm and friendly, is just one of the estimated 10,000 students who come to Santa Barbara through an English language program every year. Some come for quick two-week vacation-study stints while others stay for as long as a year. Others even go on to study at Santa Barbara City College and then transfer to a four-year university, most often our very own UCSB. But no matter their studies, all of these foreign students need a place to eat and lay their heads at night, and that reality-as de Vos can attest-isn't always as wonderful as Web sites may advertise.
The students come to attend one of three schools: the grand-daddy in size and history is Education First International (EF), located on Chapala Street near Micheltorena; slightly smaller in scale is Kaplan Aspect, owned by the Washington Post and located on SBCC's campus; and the baby bear of the bunch, the English Language School (ELS), is located on Anapamu Street at Chapala. Other schools have come and gone throughout the years-including a now-closed UCSB program-and SBCC also runs its own international students program, but these three are the core establishments, responsible for attracting the most foreign students.
The schools offer programs suitable for the person who simply wants to hold his or her own as a tourist on the streets of New York City, to a Saudi Arabian diplomat whose English must be impeccable. As part of the total immersion concept, the schools also arrange homestays so students will be inundated with English and the American experience at all hours. Homestays are greatly encouraged by the directors of each school, who collectively agree that such living arrangements usually prove the most critical part of the student experience.
For foreign students, the homestay experience varies widely, from downright ugly to a beautiful example of two disparate cultures embracing one another as family. Sometimes a bad experience is the fault of the student, who can be overly picky and come with ridiculous notions of what to expect, including idealized notions of the stereotypical American family. But more frequently, a bad homestay is due to the hosts who are in it for the room-and-board money paid by the students, and not to provide total cultural immersion. Such hosts, say students, have too many rules, ration the required food provisions to maximize their profits, treat them as tenants, and don't include them as part of the family.
The seemingly impossible task of maintaining the peace in this unending culture clash falls squarely upon the schools. The directors of each say they do all they can to find suitable homes, examining each one thoroughly and regularly for appropriate living conditions. But the sheer volume of students flooding Santa Barbara every season often proves overwhelming, and the ability to check each and every house is limited, not to mention the times when what looks like a good host family shows its true face later.
This can be bad news for the foreign students, whose personal accounts-along with those of host families and concerned onlookers-reveal that the living conditions can often be far from appropriate. Summertime is when the foreign student population peaks in Santa Barbara, so watch out for the gaggles of out-of-place adolescents hanging at bus stops or walking dazzle-eyed down State Street. They're usually easy to spot, their foreign flair not quite blending with the typical SoCal style and their tongues tapping out exotic rhythms. But don't discount them as simply the latest wave of here-today, gone-tomorrow tourists-they're your neighbors, and there's much more going on in their lives than meets the eye.
School's In for Summer
It's not clear which was the very first language school ever in Santa Barbara, but there's consensus that Education First (EF) is the oldest-on-the-block of the current three, starting in 1991. EF's director Autumn Mostovoj confirmed the school's early beginning. "This actually was the first school that the owner bought," she explained of Bertil Hult, EF's Swedish founder, who since has expanded the empire to more than 400 schools worldwide. Santa Barbara's EF, said Mostovoj, is "one of the top three U.S. schools, a flagship and destination school. We're proud of that. A lot of people want to come here." And a lot do, as EF has been known to bring in 800 new students during peak summertime weekends.
The popularity must be a testament to the schools' reputations, because studying English in Santa Barbara-one of America's more expensive cities-is no bargain. At EF, a 10-week "general" course costs $5,200 and an "exam" course costs $5,780, including payment to share a room in a homestay that is supposed to provide two meals per day. Kaplan Aspect's 10-week general course runs $5,050 including homestay, and ELS is about $5,475 for 10 weeks including homestay. Then add $300-$600 in additional fees to all those prices. In comparison, a semester for students at SBCC, which lasts 11 weeks and gets you 16 units, is about $3,500.
Even in a down economy, learning English remains a valuable tool in our increasingly globalized world, so these costs don't seem to dissuade the students or, for that matter, their parents, who most often foot the bill. But while the hunger for English remains steady, the individual reasons for coming are as varied as ever. Some students come to party away their parent's money under the alibi of learning English. Some come to enjoy the nice weather, power-lounge on the beaches, and unabashedly bask in the Californication they've seen on TV screens back home, happy to handle the minor hassle of a few classes. And then others come for serious instruction, to master English in order to excel at their jobs back home, or even to earn a higher rank in their nation's military.
This is Yeong Jae Kim's reason. A 20-year-old student from South Korea studying at EF, Kim knows that better English gets him out of the rank-and-file of the military-where every male citizen must serve for two years-and into the special forces. "I came first reason was I have to go to military service," said Kim in still-broken English. "In Korea everybody goes; it is their duty, and if I am good at English I can go to the special military where they are doing translations." But Kim, like any twenty-something exploring a foreign land, is also having fun. The day he explained his motivations, he admitted missing his morning classes because he'd sung the night away at a karaoke bar in Los Angeles's Koreatown.
And that's alright, because students at these language schools are allowed to control their own destiny. Attendance in classes is not mandatory, and the general courses aren't even graded. The experience of living in America is often the biggest lesson of all, which is why all of the schools also plan extra activities beyond academics, including movie nights, beach days, and organized trips to Las Vegas, Disneyland, and San Francisco. And when it comes down to it, it doesn't always matter how much class you go to anyway, because often the real learning happens while walking through the city or hanging out at your homestay.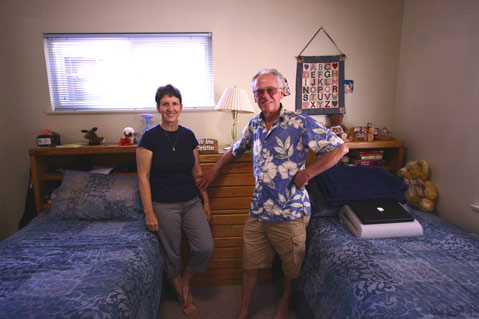 Shannon Switzer