Gil Armijo, executive staff assistant to 5th District Supervisor Joe Centeno, has left the supervisor's office. Recently Armijo has been embroiled in legal troubles and has been facing off against the District Attorney's office head on, fighting a felony perjury charge stemming from a December 2007 DUI case.
He said in a statement to The Independent that he was recently diagnosed with a "disabling medical condition stemming from the emotional trauma and shock I experienced when the District Attorney breached a no contest plea bargain that the Superior Court judge represented as the end to all matters" related to the perjury case. The case and his illness are directly related, he said.
An email sent Tuesday to some county staffers from Centeno said Armijo's last day is July 31, but that he is also currently out on medical leave until that day. July 31 is also Armijo's next appearance in court.
The criminal problems started in December 2007, when Armijo was arrested for drunk driving in Carpinteria. Armijo claims he wasn't driving drunk at the time, but that a friend had driven his car to the location in Carpinteria. An officer came upon his car parked alongside the roadway and later observed Armijo to appear to be intoxicated. There Armijo took a breathalyzer test and blew a 0.1614 percent blood-alcohol level (BAC) -more than twice the legal limit of 0.08. In his many court filings, Armijo has claimed that those results were incorrect due to the presence of nearby vehicles and their radio waves. Armijo, who alleges misconduct on the part of the Sheriff's Department, said that deputies "gave me breath tests fully knowing that the exponentially intensified, powerful radio waves of four vehicles would yield a falsely high BAC."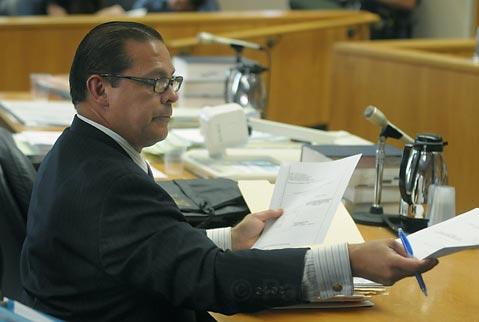 By Paul Wellman