As of this week, school's out for summer in the Santa Barbara School Districts.
But while the sun-soaked months of June, July, and August will once again provide a much-needed respite from the grind of education for teachers and students alike, things won't be quite so "livin' easy" for the faculty and staff of Harding Elementary School on Santa Barbara's Westside. Mired in flat-lined, far-from-proficient test results and facing federal sanctions for the fourth straight year from the No Child Left Behind (NCLB) program-President George W. Bush's widely despised, test-score-dependent public education plan-the school has no choice but to drastically overhaul its approach to educating children. And fast.
For good or bad, by the time kids return to the classrooms at 1625 Robbins Street in late August, the school -led by polarizing principal Dr. Sally Kingston-will be both philosophically and structurally different. When the school bell rings, the incoming students will find themselves the subjects of a grand teaching adventure, with their classrooms as educational "labs," more individual attention from their instructors, and an army of student-teachers from UCSB on hand to help. The credentialed staff teachers, meanwhile, will be facing their own challenges: Nearly half of them will be teaching a new grade and every one of them, whether they like it or not, will be facilitating an internationally developed paradigm shift in their approach to the curriculum as well as taking part in an innovative-though labor-intensive-weekly assessment of each student's progress.
In short, as Kate Parker-president of the S.B. School Board, which unanimously supported the new Harding vision earlier this spring-put it recently, "It exciting, it's dramatic, and it is going to be a radical change."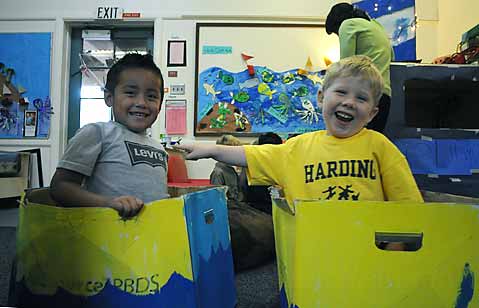 By Paul Wellman