As a community, Santa Barbara is known as a notably bicycle friendly locale. Bike lanes and pedal-pushing commuters abound, and there is even a community bike shop on the Eastside where bikers can repair or upgrade their two-wheeled conveyances. However, Santa Barbara also supports an ever-expanding recreational cycling scene, with Elings Park - located at the intersection of Cliff Drive and Las Positas Road - serving as a hub of activity for mountain bikers and now BMXers as well. This weekend's Santa Barbara Bicycle Festival - organized by Ed Brown, general manager of VeloPro bike shops - to raise awareness and money for the community resource. "The Bicycle Fest is bringing the community together to raise awareness and just have fun," he said. "Manufacturers, local bike shops, local trail organizations like the Santa Barbara Mountain Bike Trail Volunteers, and local businesses were all involved."
The setting of Elings is in itself reason enough to make a trip there. The hilltop that dominates the park's landscape offers a sweeping view of the Douglas Family Preserve - across Cliff Drive - the palms of Hendry's Beach, and the vast blue expanse of the Pacific Ocean. Hidden amongst the brush on the hill's many facets are a number of mountain bike and BMX trails, complete with banked turns, jumps, and a new pump track (a mini BMX affair that doesn't require pedaling). From simple to very technical, there's something for everyone at the park, which can be attested to by the number of people - both cyclists and pedestrians - present on any given afternoon.
Photo Gallery
Santa Barbara Bike Festival 2009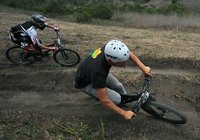 This weekend's event consisted of a number of races, clinics, and activities, the main races being cross country, downhill, super downhill, dual slalom, and BMX. Mountain bike and BMX races were held at Elings, while a road race was also set up at the Sand Piper Golf Course, featuring a five-mile loop along the cart paths. Native Santa Barbaran Shaums March, a professional mountain bike racer who now hails from Canada, partnered with Marin Bikes to offer free mountain biking clinics. "All of these things [which were included in the races] occur in the park, and can be ridden daily from dawn till dusk," said Brown, adding that money from the event is being donated to the park. "The purpose of the bike fest is to give back to the park for giving us trails out here. We expect that this event will raise $10,000 for the park, but we may do a little better."
For more information about the event and race results, visit the SB Bike Fest website.