The book containing Santa Barbara County's proposed 2009-2010 fiscal year budget is 650 pages, heavy enough that carrying it provides as much a physical workout as reading it does a mental one.
But despite its size and pages of numbers, graphs, and analysis, uncertainty in specifics lingers, as word from the state is changing-and often worsening-by the hour, making it difficult for county officials to pin down what exactly must be done locally. For the first time in the last two decades, the printing of the budget book was followed by re-estimates that were necessitated by new developments. "When we did the book, we were balanced," county CEO Mike Brown said. "Once again, we're out of balance."
What is known is that the county is in deep financial trouble. In addition to a $15 million budget deficit that county staff had to balance, the latest numbers show an apparent $3.2 million in additional deficits.
"We really had a drop-off in the third quarter," Bob Geis, county auditor-controller, explained, estimating that by the end of next fiscal year, revenues from property transfer taxes will have dropped 53.3 percent. By the same time, supplemental property taxes are estimated to decline 47.8 percent, and the transient occupancy tax-based on countywide tourism and lodging-is expected to suffer a 21.3-percent decline.
"

I don't think the safety of the public can be eclipsed in any way by anything else," he said.
Proposition 172 funds, which largely support public safety programs, took front and center Monday, as representatives of the District Attorney's office, Probation Department, and Sheriff's Department spoke before the supervisors. Officials outlined how cuts to one department impact or even hurt the others. Sheriff Bill Brown made it clear that his department should be prioritized. "I don't think the safety of the public can be eclipsed in any way by anything else," he said.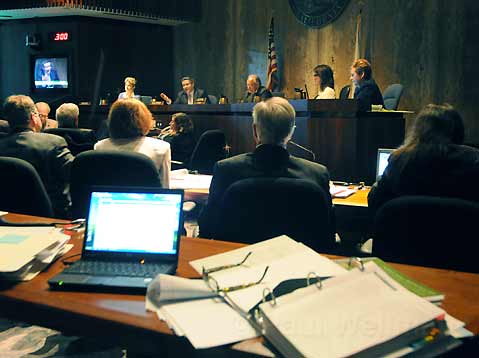 By Paul Wellman