Late Sunday afternoon, May 10, fire investigators released additional information regarding the origin of the Jesusita Fire. It appears, from the press release, that the investigators have received tips from trail users indicating that several unidentified individuals were spotted on both Monday and Tuesday, in the hours between 10:30 a.m. and 1:30 p.m. clearing grass along the Jesusita Trail. The fire started in the early afternoon of Tuesday, May 5.
On Wednesday, the morning after the fire began, I personally walked a section of the trail immediately below and west of the start point, while following a hot shot crew cutting hand line in that area.
For those who know the Jesusita Trail, the route above Moreno Ranch follows a shaded canyon for a quarter mile, then it begins to gain elevation quickly. At one point, a series of switchbacks lead up into the higher chaparral, followed by an almost level section of trail that goes on for several hundred yards.
That section of switchbacks showed evidence of trail-brushing in recent days. The two-foot-tall grasses were most likely mowed with a hedge trimmer, judging by the way it was cut and the way the vegetation was scattered on the hillsides. There is no indication, from talking with other trail leaders in our area, that any of the organized trail groups conducted maintenance projects on either of those days.
Point of Origin: As I left home on Tuesday at the start of the fire, I could see that its initial spread was directly east, and that it was located in the upper part of San Roque Canyon. I reached a staging point high on the east side of the canyon at about 2:30 p.m. The time stamp on my photos indicates that the first picture I took of the fire was at 2:39 p.m. The crew supervisor for the Lake Cachuma Hot Shots, Mark Linane, was nearby and I listened for several minutes as he analyzed the scene, trying determine how to attack the fire directly. After several minutes he decided that air attack was the only option at that point.
My first photos of the fire's origin point were taken at 2:44 p.m., when one of the air-attack helicopters arrived on scene and began to drop water. Only later, when I reviewed the pictures did I realize that several of them pinpointed the exact location of the point where the fire started. On Saturday morning, I provided the fire investigators with copies of the photos as well as additional information, late on Saturday, from my own observations. At that point I agreed not to release details until they had determined it was appropriate to make them public.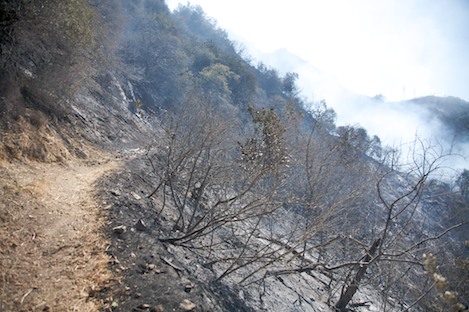 By Ray Ford