Article Tools

Print friendly

E-mail story

Tip Us Off
Share Article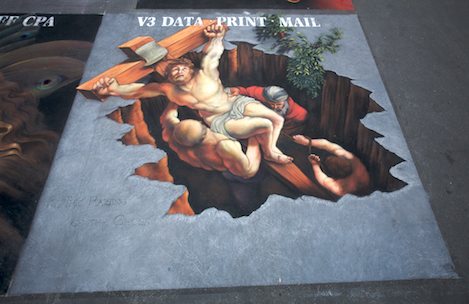 By Ray Ford
I spotted John Danner almost as soon as I got to Santa Barbara's Old Mission on Saturday. John was fully decked out in his chalk art gear: outrageously colorful shorts, a bright jersey, and a subtle chalk art red pair of sneakers.
JD is a San Francisco city firefighter by profession but his passion is chalk art. John not only spends the weekend here photographing the art but at other festivals throughout the state so he not only knows the artists but has a much better sense of Santa Barbara's niche in the world of street painting.
I've known John for a number of years now and we have loads of fun sharing the three days of street painting Santa Barbara style, though amazingly, we've never spent time with each other outside these few days each year. They are preciously enjoyable days and I savor the opportunity of watching both the art evolve each day and sharing good times with JD.
As is our custom, throughout the weekend we talk in short bursts, comparing notes in between periods where we wander through the crowds and talk with the artists. Last year was a bit different for both of us in that as the days passed we began to work up a list of what we considered 2008's best chalk art paintings. We weren't necessarily judging them so much as building a collection of what we thought represented the 2008 festival.
It's important to note that everyone's painting was fantastic. I Madonnari is not about awards or recognition: It is about participation and making connections, to the art and to each other. It is a community event that touches everyone who comes and especially the artists themselves.
Emerging Art: Saturday at I Madonnari is about a metamorphosis of sorts. Like a butterfly emerging from its cocoon, small pieces of the chalk art begin to take form from the otherwise dull black pavement. Small snippets of what will become something much bigger and grander provide a glimpse of what those who come on Monday night will see.
Chalk art is unique in that each artist picks a starting point and then begins to work outward from it due to the nature of the medium: If you can't reach a section of the painting later, too bad - you're stuck what you've done. So the art comes forth in full detail from that starting point and then begins to flow outward toward the edges.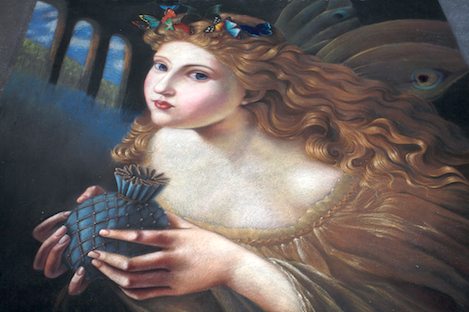 By Ray Ford