Shortly after a young gay man was beaten violently on the streets of Northern Ireland in June 2008, Member of Parliament and born-again Christian Iris Robinson went on BBC radio to condemn the attack. Yet, as the discussion continued, Robinson revealed her deep prejudice against homosexuality, stating that homosexual acts were an "abomination" and made her feel "nauseous."
Lloyd Newson, artistic director of DV8, a cutting-edge physical theater company based in London, was listening closely.
Newson had a particular reason to be interested in Robinson's comments, and in the fallout from them: For more than a year, he'd been collecting interviews and statements from gay Londoners of all ages, ethnicities, and religious backgrounds, as well as comments from those who condemned their sexual orientation and practices. The results of those interviews formed the basis of DV8's latest stage production, To Be Straight With You, a hard-hitting, controversial look at the intersection of homophobia and religion in Britain today.
Robinson's comments hit the news when the company was on a summer break, and Newson decided the story should be integrated into the show. And so, that summer, he flew to Northern Ireland to interview Stephen Scott, the 27-year-old who had been beaten. Scott told Newson that following the attacks and the resultant media attention, he had received so much verbal abuse when in public that he had been forced to remove his arm cast and dye his hair to avoid being recognized.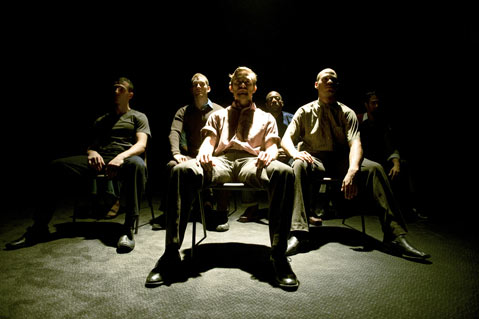 Matt Nettheim