Steinbeck Country: I was dunking a shrimp in a bowl of hot sauce on Cannery Row last weekend when a woman across the table asked, "How do you compare Monterey with Santa Barbara?"
Well, first of all, Santa Barbara never had that colorful era where huge canneries sucked zillions of sardines from the sea and packed them off. Now the sardines are long gone and so are the canneries, replaced by hotels and seafood restaurants.
This is John Steinbeck Country. His colorful lore is as much a part of the ambiance as bowls of warm calamari and old-timers' stories at the Sardine Factory bar. His 1945 novel Cannery Row was a hit just as the sardines were starting to run out.
Nor does Santa Barbara have sea otters lolling around in the water in easy view of hotel guests and tourists gobbling crab, salmon, and, of course, shrimp. Monterey still lives off the sea.
Both towns sport tourist-magnet wharfs. Santa Barbara's Stearns Wharf is more of an excursion onto a wide-open pier with a few eateries, while Monterey's Fisherman's Wharf is wall-to-wall with restaurants equipped with large windows offering views of Monterey Bay and the marina, the better to please tourists as they knock back drinks and dig into plates of good old seafood.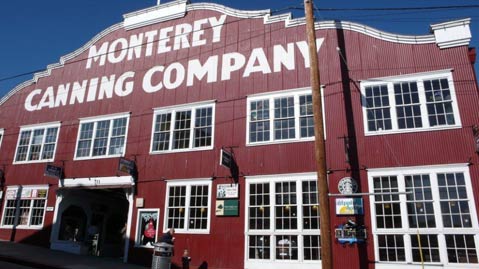 By Sue De Lapa