There must be something in the water in Montecito. Growing up fewer than two miles apart in the same sleepy, surf-primed part of 'Cito, three towheaded and tanned teens are making some serious waves in the wide world of surfing. Besides being head-turning standouts every time they paddle out at Rincon, brothers Conner and Parker Coffin, along with nearby neighbor Lakey Peterson, are at the head of the class for the next generation of world-class surfers. In an unsurpassed feat-not to mention a strong indication of the current health of Santa Babylon's storied surf culture-the trio of youngsters recently were named to PacSun's U.S.A. Surf Team, an honor that has them poised to represent America at surfing's World Junior Surf Championships in New Zealand early next year. Not too bad for a few groms from a town that doesn't get waves most of the year, but really that accomplishment is only half the story.
The Oldest
In mid September, an early-season west swell woke up the South Coast's point breaks from their annual slumber. At Rincon, the waves were sunny, warm, and wrapping around the point with literally a hundred frothing surfers on hand to greet them. Sixteen-year-old Conner Coffin-home from an anything-but-typical teenage summer vacation (he was on a Red Bull-sponsored boat trip in Indonesia before jetting off to similar surf hunting escapades in Australia and Bali)-was among the masses at the wave he has been surfing since his dad took him out for dawn patrols before kindergarten.
A solid one swings wide of the Indicator and sets up just above the Rivermouth. With a couple quick paddles, the regular foot is up and riding, his poise, precision, and power better than most surfers twice his age. After high-lining a section, the kid who tested out of high school at the ripe old age of 15 blasts a vertical snap, his fins slashing free above the wave. Even as the roiling spray sent from his first turn is still settling, he blasts free from the wave again-launching into a smooth, perfectly functional frontside air-landing and disappearing down the line toward the Cove in a blur, nearly every neck in the vicinity craning to watch. Just old enough to drive a car, Conner's approach to riding a wave has a maturity level far beyond his years.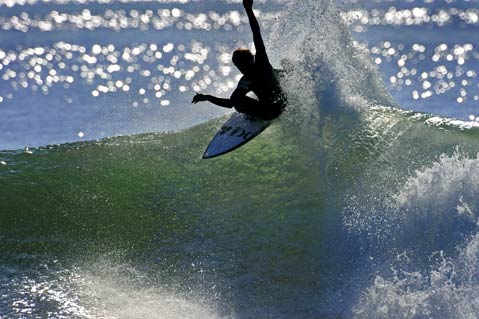 Steve Bissell