I'm a purist. I'll admit it. Though many folks consider the combination of chocolate and wine to be the ultimate indulgence, I've always preferred to keep my epicurean extravagances separate. Don't get me wrong, I like chocolate and love wine, but the sugar in chocolate sometimes reacts with the acidity of wine, creating an unpleasant convergence. So I resolved long ago that, for me, chocolate and wine were two very individual indulgences.
That is, of course, until the fateful afternoon tasting at Vino Divino when a white chocolate rose-infused truffle created by Jessica Foster Confections coated my palate after a sip of Vogelzang sauvignon blanc. The result was astonishing-epicurean nirvana. "Perhaps the two can co-exist," I sighed.
Inspired by culinary curiosity and the prospect that these delicacies could form some divine symbiotic partnership on the palate, I set out with esteemed chocolatier Jessica Foster to discover the principals of pairing wine and chocolate. Together we tasted our way through countless confections and more bottles of wine than I should really divulge all for the purpose of expanding our collective chocolate consciousness and sharing that knowledge with you.
Jessica Foster knows chocolate. For the past six years, she has lovingly hand-rolled each cocoa-buttery bonbon by hand in her Mission Street kitchen. Made with high quality ingredients and no added sugar, her truffles are a very grown up indulgence-complex, exotic, and perfectly balanced. She infuses the creamy centers with delicious natural flavors like Meyer lemon, passion fruit, and pomegranate molasses; essences like lavender, rosemary, rich chai tea, coffee; and savory spices like curry, chipotle, and Ras al Hanout, a zesty Moroccan spice blend. These intriguing flavors, while delicious on their own, are ideal accents to the nuances of wine.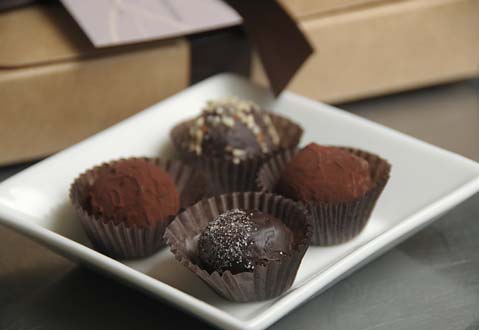 By Paul Wellman