Hydromulching operations for the Jesusita Fire burn area began September 15 and are scheduled to last approximately three weeks. During this time, four planes will be filled and re-filled with the mulch, which county officials promise is 100 percent contaminant-free. This is in contrast to the contaminated hydromulch used on the Gap Fire burn area, which contained plastic and other litter.
Photo Gallery
Hydromulching the Jesusita Burn Area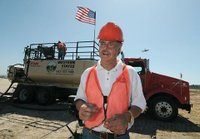 The hydromulch is made up of recycled materials, including old phone book paper and wood pulp. It will cover more than 1,000 acres of charred land. The goal is to stabilize the land and prevent erosion, especially come rain season. The operation will cost more than $3 million, three-fourths of which is covered by the federal government.
For more history on the hydromulching plan, click here