Sound the trumpets (not the vuvuzelas, please). A sign outside UCSB's Harder Stadium said it's soon to become "soccer heaven." At its entrance will be Curtice Gate, named in honor of a man who coached Gaucho football teams more than 40 years ago. If you wonder why the nation's preeminent college soccer venue bears the monikers of gridiron ghosts (the stadium is named after an even older football coach), the groundbreaking ceremony last Friday provided some answers.
"Cactus" Jack Curtice was the primary force behind the construction of the stadium that will host the 2010 NCAA Men's College Cup. When he came to coach football at UCSB in 1963 after stints at Utah and Stanford, the Gauchos did not have a home field. They shared La Playa Stadium with City College. Curtice rustled up support for an on-campus facility, and a year after he guided the Gauchos to the college division championship game known as the Camellia Bowl, it became a reality. Campus Stadium opened on November 12, 1966, and before a sell-out crowd of 12,000, the Gauchos shellacked Cal Western University, 64-3.
UCSB's football program later became a casualty of economic strictures and changing priorities, but Jack's stadium endured. In the last decade, the success of UCSB's soccer teams—peaking with the NCAA men's championship in 2006—has attracted large crowds to Harder Stadium. When the NCAA awarded the College Cup (coming December 10-12) to Santa Barbara, it was evident that the stadium, basically unimproved since the capacity was expanded to 16,000 in 1970, would need some serious upgrades.
New turf has been installed on Meredith Field (the pitch is named after a soccer donor) and it will be ready for UCSB's soccer season opener later this month. Meanwhile, construction will proceed on a concessions area, a remodeled press box, a state-of-the-art scoreboard, and the new entrance at the southeast corner.
Former Gaucho football players are returning a favor to their old coach, who passed away in 1982, by making his legacy known. "I owe my career, my life, my family to him," said John Keever, a tight end on the Camellia Bowl team. He enlisted the help of All-American linebacker Corky Barrett and former sports information director Donn Bernstein to secure the donations and pledges that will fund Curtice Gate.
Margaret Curtice, the coach's widow, attended Friday's emotion-spiced ceremony, along with Jim Curtice, who played quarterback for his father. Jim said that the gate is a tribute to his mother, too. It was Margaret, as sweet as peanut butter toffee from her native Virginia, who prodded Cactus Jack to take the UCSB job.
Theodore "Spud" Harder, whose legacy as a Gaucho coach dated back to the 1930s, was still alive when the stadium was named after him in 1981. His great grandson, UCSB senior Riley Jimison, was introduced at the groundbreaking. "I wish I were you," Jim Curtice told the young Gaucho athletes in attendance. He challenged them to honor their "soccer heaven" by winning another national championship.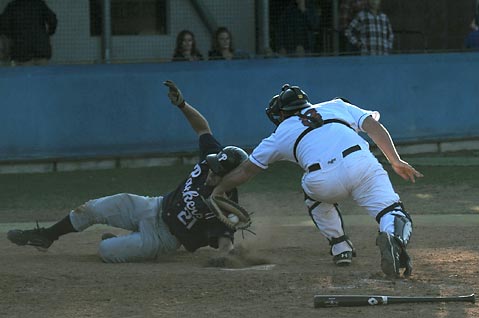 By Paul Wellman