Fresh from the Fields
Brian Collins, chef de cuisine; Full of Life Flatbread, Los Alamos
Tucked in the farthest corner of the one-lane road that makes up Los Alamos, Brian Collins, his head down, is concocting a new recipe for the weekend menu at Full of Life Flatbread. He blends seasonal ingredients with a selection of beef or chicken delivered earlier in the day to Flatbread's back door by a nearby rancher or poultry farmer.
Full of Life Flatbread—with its on-site vegetable garden and rustic picnic tables—is a destination for pizza lovers and hardcore locavores alike. Under Collins's lead, the restaurant's growing reputation is based on its singular focus on local producers—farmers, ranchers, and fishmongers. Collins changes the menu each weekend when the wood-fired ovens crank out an amazing array of specialty pizzas, topped with ingredients just harvested from nearby fields and farms surrounding Flatbread.
Collins's creative ingenuity is a byproduct of his years at Chez Panisse, where a commitment to land and people is business as usual. Collins himself knows every farmer within 150 miles of Los Alamos and can tell you where and how to forage for wild chanterelle mushrooms and stinging nettles—after a recent afternoon spent foraging, he featured both on a Flatbread pizza along with area leeks. "I'm really lucky. I love what I do," he said. "I know everyone that supplies us food, and it changes constantly. That makes every weekend a new adventure for me."
Roasted Santa Barbara Squid with Shell Beans and Aioli
Cooking the squid requires the use of a barbeque and a cast-iron pan.
Ingredients
Fresh Squid, two lbs., cleaned, bodies cut into 1 inch rings
Cherry Tomatoes, 1 pint, halved
Shell Beans, 1 cup shelled
Shell Beans, 1 cup shelled
Basil, 2 tablespoons, minced
Shallot, 1 tablespoon, minced
Lemon Juice, 1 tablespoon
Meyer Lemon, 1 lemon halved
Olive Oil, about ¼ cup, local extra virgin
Olive Oil, about ¼ cup, local extra virgin
Directions
Place the shell beans in a pot and cover with two inches of cold water. Bring to a boil, then turn to a simmer. Add about one tablespoon of salt to the water. Cook for 15-30 minutes, depending on the variety of shell bean being used. When the beans are creamy/tender, let them cool in their liquid. Strain the beans, discarding the cooking liquid.
Add the minced shallot and the lemon juice to a large salad bowl. Let stand for 15 minutes to let the shallots soften. Add the tomatoes, shell beans, a couple ounces of olive oil, the basil, salt, and pepper. Toss together. Add the arugula, and gently toss again. Divide evenly among four plates.
Light the barbeque, and heat the cast-iron pan on it. Season the squid with salt and pepper, and toss with a one-fourth of a cup of olive oil. Carefully take a hot cast-iron pan off the barbeque, and add the squid all at once. Be sure to do this away from the fire to prevent flare-ups. Once the squid is sizzling in the pan, add it back to the grill, and cover the barbeque for about one minute. Uncover and stir. Cook a few minutes more. When the squid starts to pop, it's ready to go. Divide the squid among the plates. Drizzle with aioli, and squeeze the Meyer lemon juice over everything. Sprinkle the paprika, and serve immediately.
Aioli
Egg Yolk, 1
Extra Virgin Olive Oil, 1 Cup
Lemon Juice, 1 teaspoon
Red Wine Vinegar, 1 teaspoon
Garlic, 1 Tablespoon-pounded smooth in a mortar and pestle
Salt, to taste
Crush a few garlic cloves in a mortar and pestle. Add a pinch of salt will act as an abrasive and help the garlic become a smooth puree. Add the egg yolk and lemon juice to the mortar and mix together. At this point you can continue to use the pestle, or you may find it easier to use a small whisk. One drop at a time add the oil to the yolk mixture, wait for each drop to be absorbed before adding the next. About a quarter of a cup through the oil you can increase the rate in which you add the oil. Once the oil has been added, mix in the red wine vinegar. You want the aioli to be drizzlable for this dish, so you may need to add a bit of water to thin it. Taste and adjust seasoning if needed. Cover and refrigerate until needed. You can make this a few hours ahead.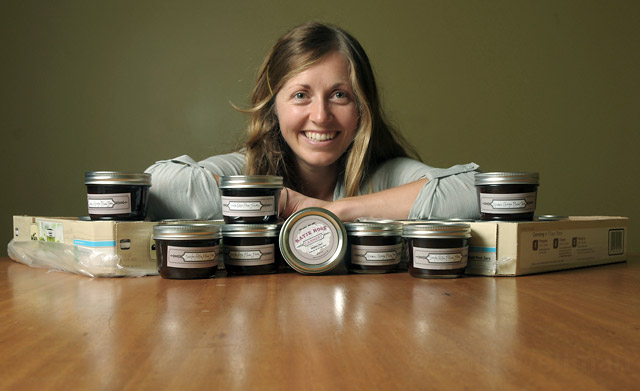 By Paul Wellman