More than 500 students gathered in front of UCSB's Davidson Library last week on what's likely to be the only night of the quarter when guys are wearing less than girls.
At around midnight, a hoard of brave UCSBers dashed through Davidson Library and around campus and Isla Vista in their boxers, briefs, bras, and panties for the ninth ever UCSB Undie Run. The quarterly event lands on the Wednesday night during finals week and students strip, pile up their unwanted clothes, and run two miles around campus in nothing more — and sometimes less — than their undergarments.
"I'm doing charity work for running around in my underwear," said Erik Hartsuyker, who's organized the event for the past four quarters. Hatsuyker completed the run while carrying a 45-pound speaker blaring techno and dub step.
Eighteen large bags full of clothing collected from the event were donated to the Goodwill thrift store. In past quarters, Hartsuyker has given as much as 1,700 pounds of clothing to Alpha Thrift and the Casa Esperanza Homeless Center.
With 8 a.m. finals looming for most of the crowd, many were willing to sacrifice study time for the party-at-all-costs attitude UCSB revelers are famous for.
"What am I going to remember at 50?" said freshman Austin White, weighing out the odds with his hands. "Anthropology final or Undie Run? Undie Run."
Whether it was the body heat, shots of whiskey, or a combination of the two, no one seemed to snicker about last night's nippy weather, which dropped as low as 46 degrees. And while most saw it as a good way to give to charity, others used the event for the sake of showing off their junk.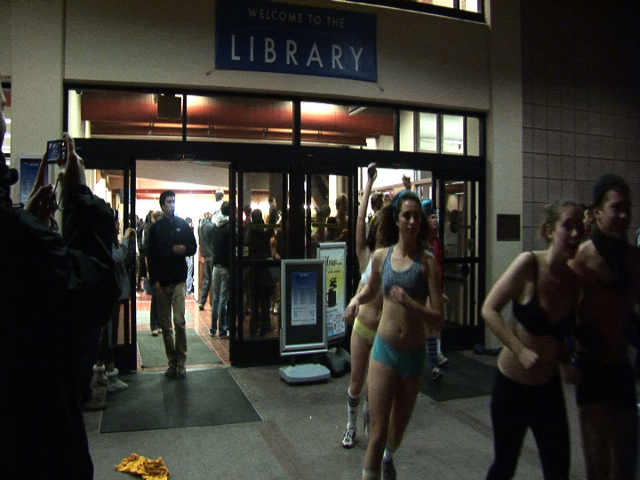 Courtesy