The gardening catalogs are arriving, and there is a lot to look at between their covers. Vegetable and flower seeds both old and new, bulbs—both edible and ornamental—and starts of everything from huckleberries to mushrooms. Some of the more interesting pages showcase products to assist with soil cultivation, compost production, and efficient irrigation. Here are some of the (sometimes startling) new items to make gardens sing.
Peat pots and planting pellets have been around for a while, but now you can start your seedlings in completely biodegradable planters made from composted cow manure. Cow Pots recycle an abundant agricultural resource and even provide a small amount of natural, hormone-free fertilizer to developing plants. A simple mold called Soil Blocker takes potting mix and compresses it into a square planting pot with a built-in depression for seed sowing. Make four-inch, three-inch or 3/4-inch planting blocks that can go into larger pots or directly into the ground.
To root cuttings, many experienced gardeners use a rooting hormone. Simplifying the task is a new natural rooting agent encased in a water-retaining gel. Just add water and your cuttings of your favorite plant. Another reusable rooting gel, called Gel2Root is already in gel form in transparent containers so you can watch the roots as they develop. These gels are of course based on the well-known super-absorbent polymers that are also available to add to regular potting mixes to increase their water-holding capacity.
Sowing seed may seem easy, but, especially with very fine seeds, it is easy to waste seed. Either it is sown too thickly or escapes into unintended areas of the garden. There are plenty of gadgets to help with this problem. The Dial Seed Sower can be calibrated for five different seed sizes, while the Pro-Seeder uses suction to pick up individual seeds and deposit them exactly where you want them. Seedmaster II looks like a little trowel with four different baffles to allow passage of different sized seeds. To quote the somewhat mysterious ad copy, it also "has a built-in manual vibrator that provides precise seed placement." It is not the only vibrating seed tool, the Vibro Hand Seeder is battery powered and fully adjustable to "match the seed distribution to your working pace." (Don't you love marketing-speak?)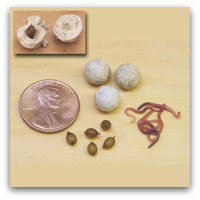 By Courtesy Photo